Before we begin: May I send you a card? If you reply to this newsletter in your inbox, or email me at cruelsummerbookclub@substack.com, with your name, mailing address and mood (or your whole-ass sob story, I'd love to hear it), I will send you snail mail. Love, Jillian
---
Sob story
I don't feel much like sobbing, or navel gazing, this week. So I'm going to give the introspection a break. My healing has crossed a really positive threshold, and I want to hold on to and focus on that right now. Plus, I just spent a long weekend on Long Island with friends celebrating all things fall, eating pie, drinking wine and wearing plaid. I'm in a peaceful mood, and I hope you are too. (And if you're not, let this be a sign that you will get there.)
For today, I'll leave you with this: We almost always know the truth. Even in confusing, painful situations, your subconscious, physical body and intuition lead you, in loud and quiet ways, toward your greater good. Feelings lie, but if you quiet your mind, zoom in on reality, and listen to your intuition hard enough, the answers you seek are already there. There's a reason people who love us can clearly see when people and situations are no good for us, while we remain (often willfully) blind. Don't hold on to the things, or people, that aren't meant for you—every single day that you do is another day they hold you back from where you belong.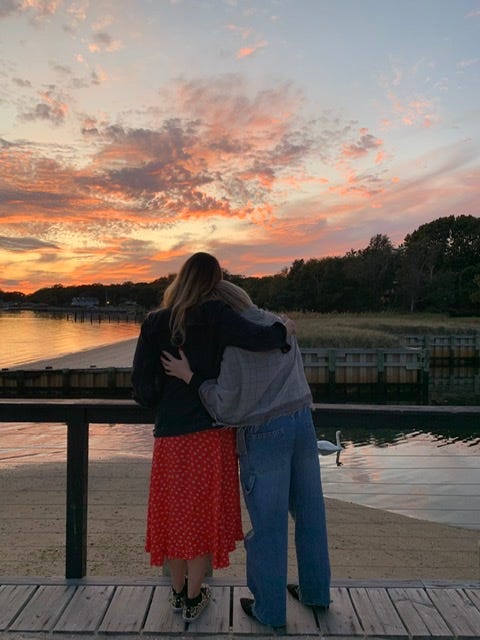 ---
I'm reading
The dinner party by Stephie Grob Plante in Southwest magazine
You know someone who's had a miscarriage in the New York Times
Darkness on the edge of Cougartown by Sarah Miller in the Cut
Seven divorced women on what to consider before you get married by Ella Quittner in Man Repeller
Yes, grief can make you horny by Hannah Smothers in Vice
Radiator season in Helena Fitzgerald's newsletter, Griefbacon
Katie Hawkins-Gaar on the difference between feeling pain and suffering in her newsletter, My Sweet Dumb Brain
---
Support I got that you might need to hear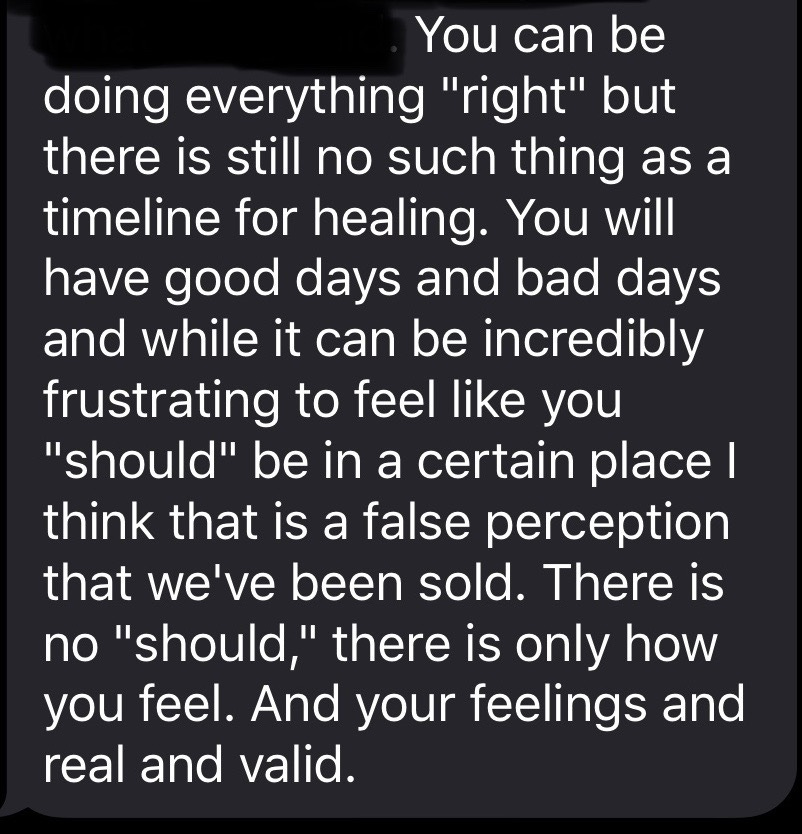 ---
Questionable self-care advice
---
Minerva moment
---
This cheered me up
Yesterday my friends and I visited Harbes Farm on Long Island and sipped hot cider, ate apple cinnamon donuts, went on a hay ride and had a lengthy photo shoot in the pumpkin patch. If you have not yet participated in extremely fall activities, pick a kitschy/spooky thing to do and watch how quickly it turns your mood around.
---
Anthem of the week
"Difficult Love" by City and Colour
Want a moody fall playlist? Here's my "loss" playlist on Spotify that I've been updating (and listening to) after every breakup since 2011.
---
Mood
---
Next week
This past weekend would have been my friend Samantha's wedding weekend—if she hadn't called it off and rapidly moved away from New York in May. Instead, we hightailed it to Long Island to drink, reclaim the weekend, and hold a funeral for our exes. It's been about three months since Sam and I last caught up about going through heartache together in the newsletter—I'll share another conversation about where we're at now, and why big change is so damn hard.
If you liked this newsletter, please subscribe and share! And I'd really appreciate it if you scroll all the way up or down and click the heart icon to "like" this post—this will help me get more eyeballs on Cruel Summer Book Club.
---
Cruel compliments
---
Follow me on:
You are not alone!