Discover more from Cruel Summer Book Club
A newsletter (and podcast) exploring change and living well. By Jillian Anthony
Over 1,000 subscribers
Cruel compendium #11 🌹
Burning your wedding dress, asking "Is there a god?" and knowing all breakups are for the best
My new advice column Dear Jilla has arrived! Mary asked, "How can I stop feeling so bad about being single during the pandemic?" Read my response here, or listen to me read it aloud. And remember to submit your question here. Have a lovely weekend.
---
I'm reading
Love is medicine for fear by Arthur C. Brooks. How to bring more love into your life right now.
Lyz Lenz writes about burning her wedding dress on what would have been her 15th wedding anniversary in her newsletter, Men Yell at Me.
Heather Havrilesky navigates the question "Is there a god?" at her newsletter, Ask Polly.
Be where you are. You're not in the driver's seat. You're not in control. Just show up and ask questions. Show up and cry. Show up and tell the truth.

Stop looking for definitive answers about the universe and take in this moment. The whole world is inside the question mark now. Let this moment be what it is. Lie down on your floor and stare up at the ceiling and feel where you are. Will we make it? Am I okay? Where am I? Do I matter at all? Stay inside the question mark.
All breakups are for the best, even this one by Shani Silver. In her final column for single people in Refinery29, Shani shares some of her best advice. Her column taught me so much about self-love and self-respect, and I can't wait to see what's next for her. In the meantime, check out her podcast, A Single Serving.
Why I write about grief by Katie Hawkins-Gaar in her newsletter, My Sweet Dumb Brain. After Katie lost her husband in 2017, she quit her job and chose to give her grief the space it needed. Here, she explores how integral that choice was in finding joy again. Today, she's pregnant with her new partner! Read my CSBC interview with Katie about being a young widow here.
---
I'm listening to
On Being: Krista Tippett and Devendra Banhart discuss their favorite passages from Pema Chödrön's When Things Fall Apart, a book I've returned to in this newsletter many times. If you need big support and a good cry, this is for you.
---
Questionable self-care advice
---
Support I got that you might need to hear
for yours and my heart and its beautiful and rich fertile grounds. for everything lost and everything found. feeling is impermanent but love is eternal, this pain is impermanent but the fertility of change is eternal. i love you.
---
You should know about
The new Substack fellows! I'm sending huge congratulations to all of them and have so many great new newsletters to read. And I have to give an extra special shoutout to fellow Edith Zimmerman, writer and illustrator of one of my favorite newsletters, Drawing Links. Edith illustrates her daily experiences and stream-of-consciousness thoughts in such a raw, unique way—subscribe!
The 19th Represents, a free digital conference celebrating 100 years of women's right to vote. The five-day event features incredible speakers and performers including Stacy Abrams, Meryl Streep, Hillary Clinton, Kamala Harris and many more. You can sign up for individual days at the link.

Love on the Spectrum on Netflix. I have not smiled this much while watching a show in years. The show follows single Australians on the autism spectrum through the trials and tribulations of the dating world. Every single one of these men has more romance in their pinky toes than any man I've dated.
---
Minerva moment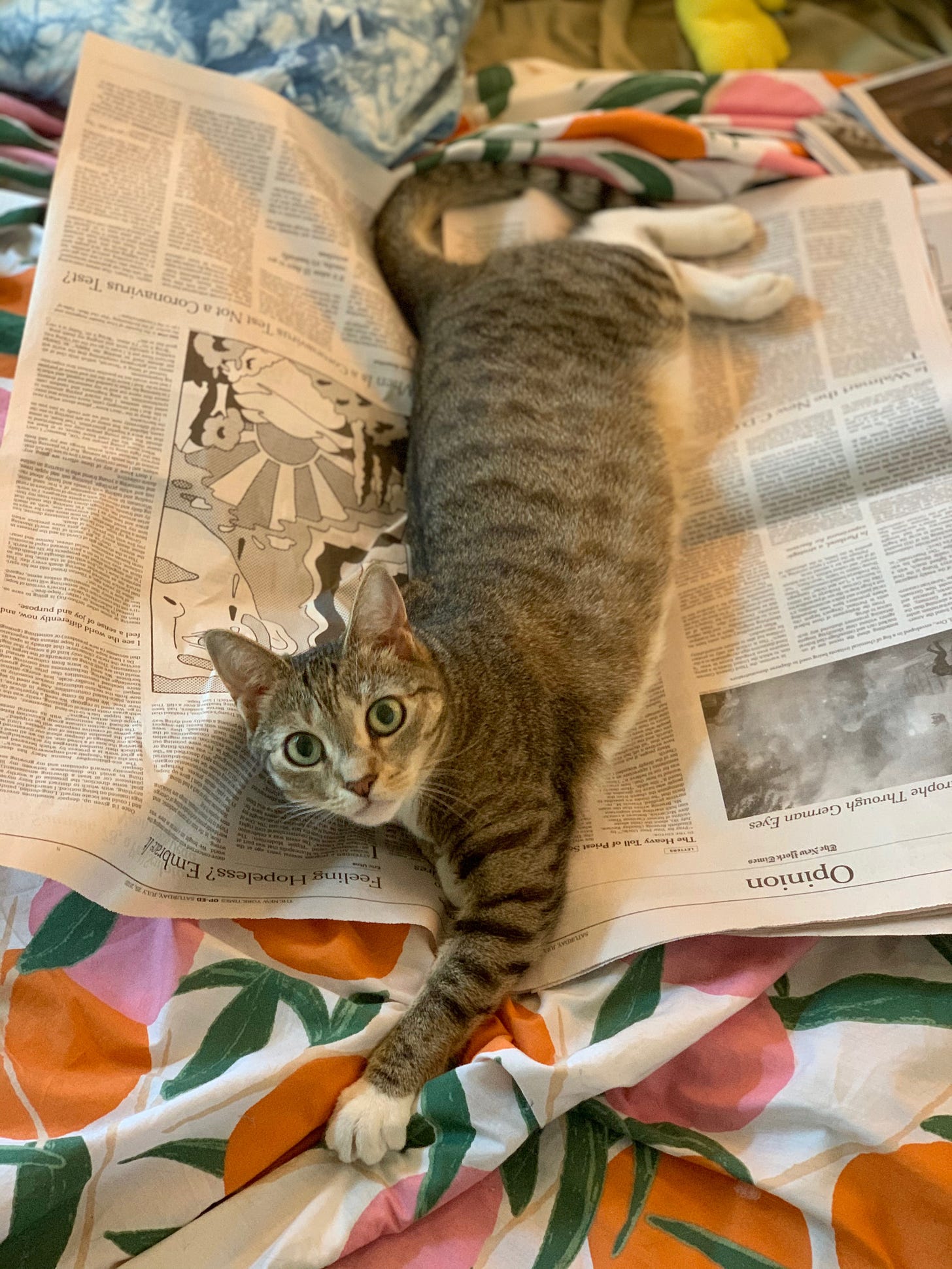 Working on her weekly reading recommendations
---
Anthem of the week
"Love is All We Share" by Cut Copy
Plus, I made a playlist with all the songs I've shared in CSBC! Check it out:
---
This cheered me up
My friend is out of town and graciously let me stay in her West Village apartment for a couple of nights. Not only did I get to pretend I live in one of the best neighborhoods in NYC, but I spent an evening and a morning trekking all over town, walking the quaint Village streets crawling with ivy, biking the West Side, exploring an abandoned Times Square, spotting egrets and turtles in Central Park. I feel so lucky to experience this special time in New York City.
A long Manhattan walkabout, in order of appearance ✨
---
Mood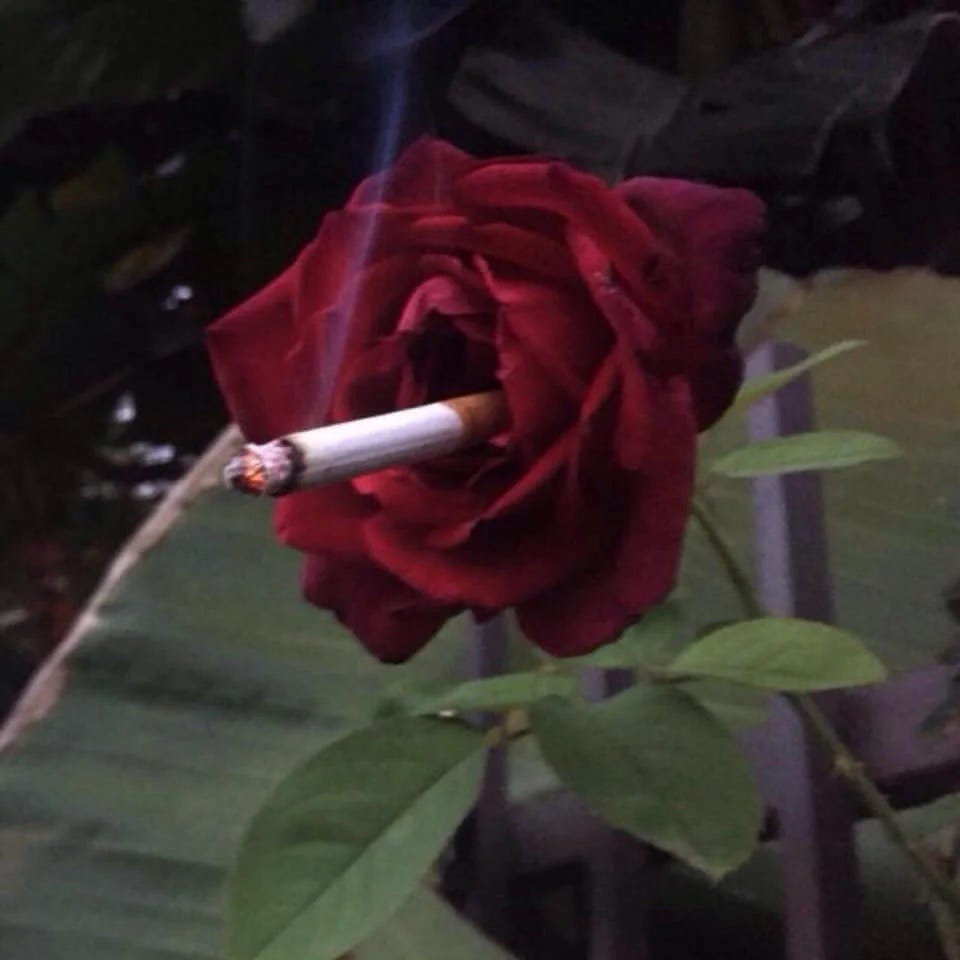 ---
Cruel compliments
---
Cruel Summer Book Club's got chills—they're multiplying! If you feel them too, please like this post, share with friends and subscribe.
Follow me on:
You are not alone!