Discover more from Cruel Summer Book Club
A newsletter (and podcast) exploring change and living well. By Jillian Anthony
Over 1,000 subscribers
Cruel compendium #13 😺
It's your lucky day
If you haven't yet, please do me a favor and fill out this three-minute survey about Cruel Summer Book Club. Your answers will really help me make this newsletter better, and figure out how to best move forward. To all of those who already did, thank you so much!
---
I'm reading
Rob Delaney on the pain and pleasure of his vasectomy. I'm very, very into Rob Delaney. I adored his show Catastrophe, watch his standup, read his book, and honestly, think he's hot! But I also love him because he's a huge advocate for healthcare for all and has shared a lot about getting through the hardships in his life, including alcoholism and losing his young son Henry to brain cancer. He's a gem.
What's a summer without kissing? by Emily Sundberg at her newsletter, Feed Me
We've reached the breakup phase of lockdown romances by Rachel Thompson
Did it work out for people who texted an ex in lockdown? by Colin Crummy
Why are people keeping coronavirus diaries? by Morgan Ome. Mine isn't daily, but it's definitely consistent.
One legacy of the pandemic may be less judgment of the child-free by Samhita Mukhopadhyay
When marriage is just another overhyped nightclub by Katerina Tsasis
What I have to say to my friends who feel pressure from family or society as they navigate dating, relationships or a single life, and who have been told they are somehow less than whole because they're on their own: You are not. A full and meaningful life belongs to us all, no wedding required.
---
I'm listening to
Brené Brown on shame and accountability. My biggest takeaways from this episode: Shame is a tool of oppression, and it's keeping us from doing inner anti-racist work every day.
---
Questionable self-care advice
Watch this about 30 times:
---
Support I got that you might need to hear
Maybe! Perhaps! 🕊 (Sketch is an old one by my Papa)
---
You should know about
---
Minerva moment
Minerva, ever the escape artist, was out seducing the neighbors in my building for hours, completely unbeknownst to me.
I retrieved her from #38, so grateful to have her back, but truly only knew she was missing for about four minutes. I tried to punish her but she is above reproach.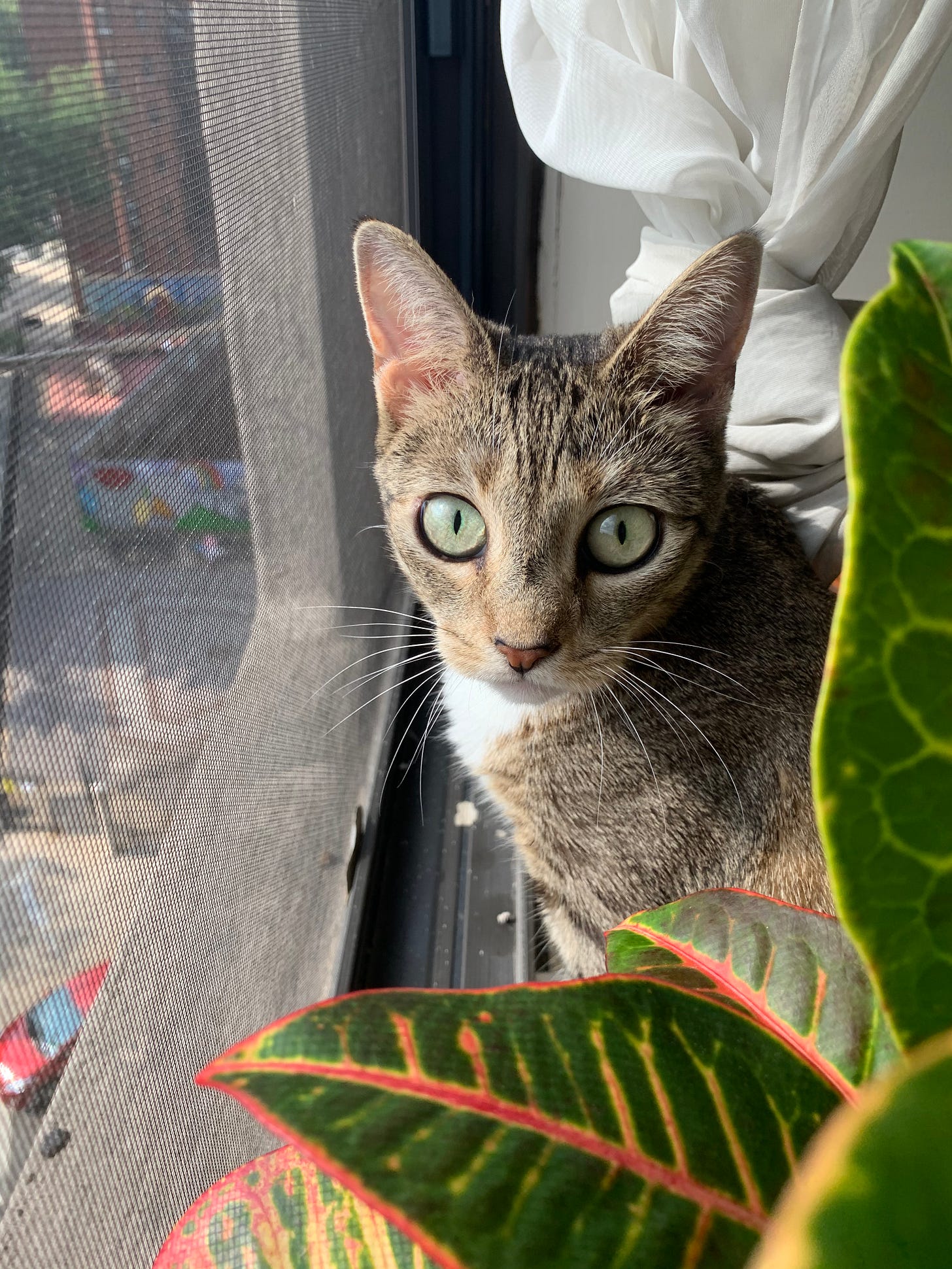 ---
Anthem of the week
"Feeling Alright Dub" by Rebelution. I'll always think of my sister when I hear this song.
CSBC playlist:
---
This cheered me up
I finally got a nutcracker (illegal booze vendors sell out of coolers) on the beach. I had the most beautiful Sunday in Fort Tilden with my friends and danced topless to WAP. I'm having a summer.
---
Mood
---
Cruel Summer Book Club hopes you get to sip on something fantastic this weekend. Say cheers by subscribing, and sharing this newsletter with friends.
Follow me on:
You are not alone!