Discover more from Cruel Summer Book Club
A newsletter (and podcast) exploring change and living well. By Jillian Anthony
Over 1,000 subscribers
Cruel compendium #3 💕
Everything I'm reading, listening to, and thinking about this week
In case you missed Tuesday's post: I wrote about experiencing the Harry Potter books as an adult, and what I've learned about grief and resilience from The Boy Who Lived. I finished Order of the Phoenix yesterday, and I truly shed some tears. On to book six!
CSBC will take a short break next week. Keep your hearts safe in the meantime.
---
I'm reading
My appetites by Jerry Saltz at New York magazine. A sprawling essay about losing a mother, a cruel adolescence, and finding what you love after 40. I'm inspired.
Please stop using the pandemic as a test of friendship by Anna Borges at Self. I needed this reminder that we are all dealing with a lot, and we are all trying our very best.
Ask Polly: "My ex keeps emailing me and I hate it!" by Heather Havrilesky at The Cut:
Knowing how you feel and who you are is so fucking important. Because the core of your tastes may not change over time. Self-acceptance requires MOVING CLOSER TO THE THINGS ABOUT YOU THAT UPSET YOU. You move closer, you keep your eyes open, and you try to love those things more and more — or at least forgive them more and more. You try to ease yourself out of rigid positions. You try to pry open your heart, and you also respect a heart that wants to stay closed at the moment.
The poem Head, Heart by Lydia Davis, via Laura Olin's newsletter:
Heart weeps.
Head tries to help heart.
Head tells heart how it is, again: 
You will lose the ones you love. They will all go. But
even the earth will go, someday.
Heart feels better, then.
But the words of head do not remain long in the ears of
heart.
Heart is so new to this.
I want them back, says heart.
Head is all heart has.
Help, head. Help heart.
I'm listening to:
Elizabeth Gilbert on her creative process on the Tim Ferris podcast. For half of my life, I've tried to be "better" at grief. For the past year, well-documented in this newsletter, I've worked on minimizing and moving past my pain. I have felt so much shame about my struggles with loss, and always felt like such a freak for how very much I feel. Elizabeth Gilbert just comes out and says it: "You can't be good at grief." Fuck!!!
I'm also now considering reading The Artist's Way. Have any of you gone through the process? I've love to hear your experiences.
---
Questionable self-care advice
---
Support I got that you might need to hear
Me @ me missing the exit (irl in Ohio and just in life)
---
I enthusiastically endorse
Pee in the potty.
No, not there on Daddy's leg.
Well, on second thought.
---
Minerva moment
Minerva is back home with me :)
---
Anthem of the week
"Rain on Me" by Lady Gaga and Ariana Grande, obviously
And all of Chromatica!!! It came out at midnight; I've listened to it three times already.
---
This cheered me up
I got a yes on a pitch for a publication I've never written for! And spent some of this week interviewing several incredible women for the story. It's taking me back to my sex and dating column days, and I'm loving it. Stay tuned!
Plus:
---
Mood
---
If you liked this newsletter, please subscribe and share!
Follow me on:
You are not alone!
---
Cruel compliments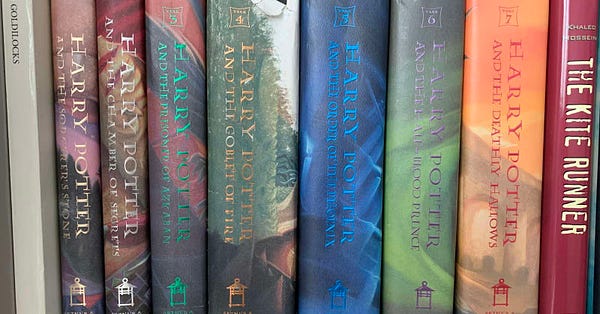 bit.ly
Lessons on grief from Harry Potter
Rethinking the boy wizard in these dementor days