Discover more from Cruel Summer Book Club
A newsletter (and podcast) exploring change and living well. By Jillian Anthony
Over 1,000 subscribers
Cruel compendium #6 🍕
Playing classical music for plants, eating at restaurants, and saying goodbye to Gouda
ICYMI: I interviewed author Hannah Orenstein about her third novel, Head Over Heels, and how an unexpected breakup led Hannah to rethink happy endings, both in her own life and in her book. Remember: your story isn't over.
---
I'm reading
Edith Zimmerman tweeted a question: "has anyone ever been in a good relationship where both people were happy and it lasted for a long time?" These are the responses she got in her comics newsletter, Drawing Links.
I wanted to know what white men thought about their privilege. So I asked. By Claudia Rankine. A Black woman looks at how privilege manifests itself through the lens of traveling in first class.
Finding well-being and Black joy when the world is on fire by Erica Chidi. Erica's discussion of genuine allyship is also well worth a watch.
Why suicides and drug overdoses are rising among millennials by Olga Khazan. This week, my friends and I have been talking a lot about mental health, because people our age, friends of friends and acquaintances, have been dying by suicide. This is a direct reminder to you, dear reader, to take care of yourself. Ask for help if you need it. Remember that feelings are not facts, and whatever you may be struggling with, you will not feel this way forever, and your situation will not be this way forever. If you or a friend are in danger of hurting yourselves, call the National Suicide Prevention Hotline: 1-800-273-8255.
I wrote about my Vegas lockdown experience in Suchandrika Chakrabarti's newsletter, Freelance Pod. She previously wrote an essay on grieving her parents through the items they left behind for CSBC.
---
Questionable self-care advice
Picture this: You're a house plant listening to classical music at the Liceu in Barcelona. You will eventually be donated to health care workers. You are at peace.
---
Support I got that you might need to hear
Choose what nourishes your soul. Forget the rest. It' time to reset the status quo.
---
Minerva moment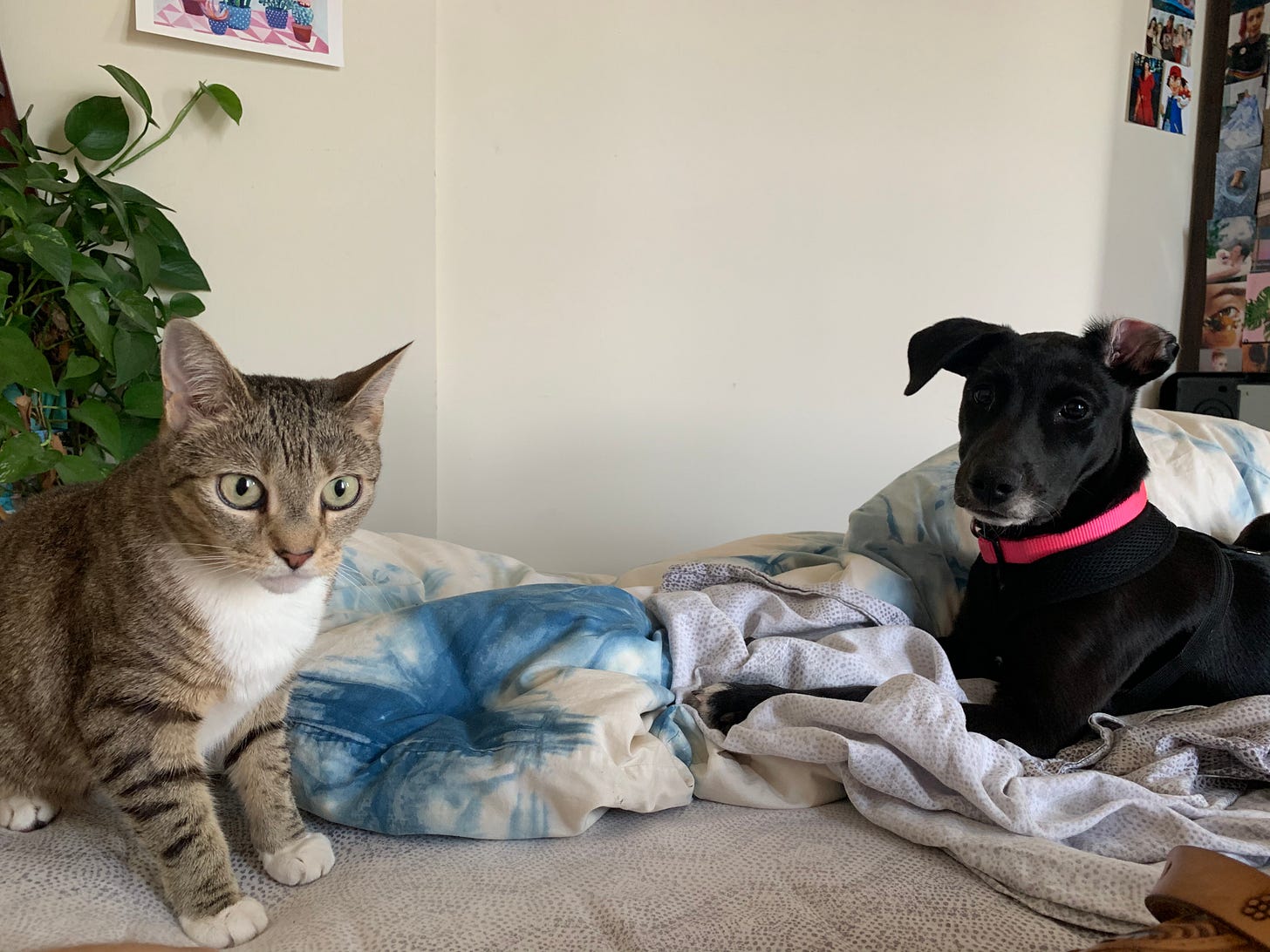 Gouda got adopted into her furever home today! I will miss her. Minerva…probably won't.
---
Anthem of the week
"Energy" by Disclosure. Sometimes when I'm running, or feeling down, I'll listen to a song that was created specifically to be a confidence booster. This is a great one, and you should also check out "Choose Yourself" by Star Slinger.
---
This cheered me up
Eating! At! A! Restaurant! My friends and I went to our favorite restaurant, Roberta's, for an outdoors feast of pizza and frozen drank.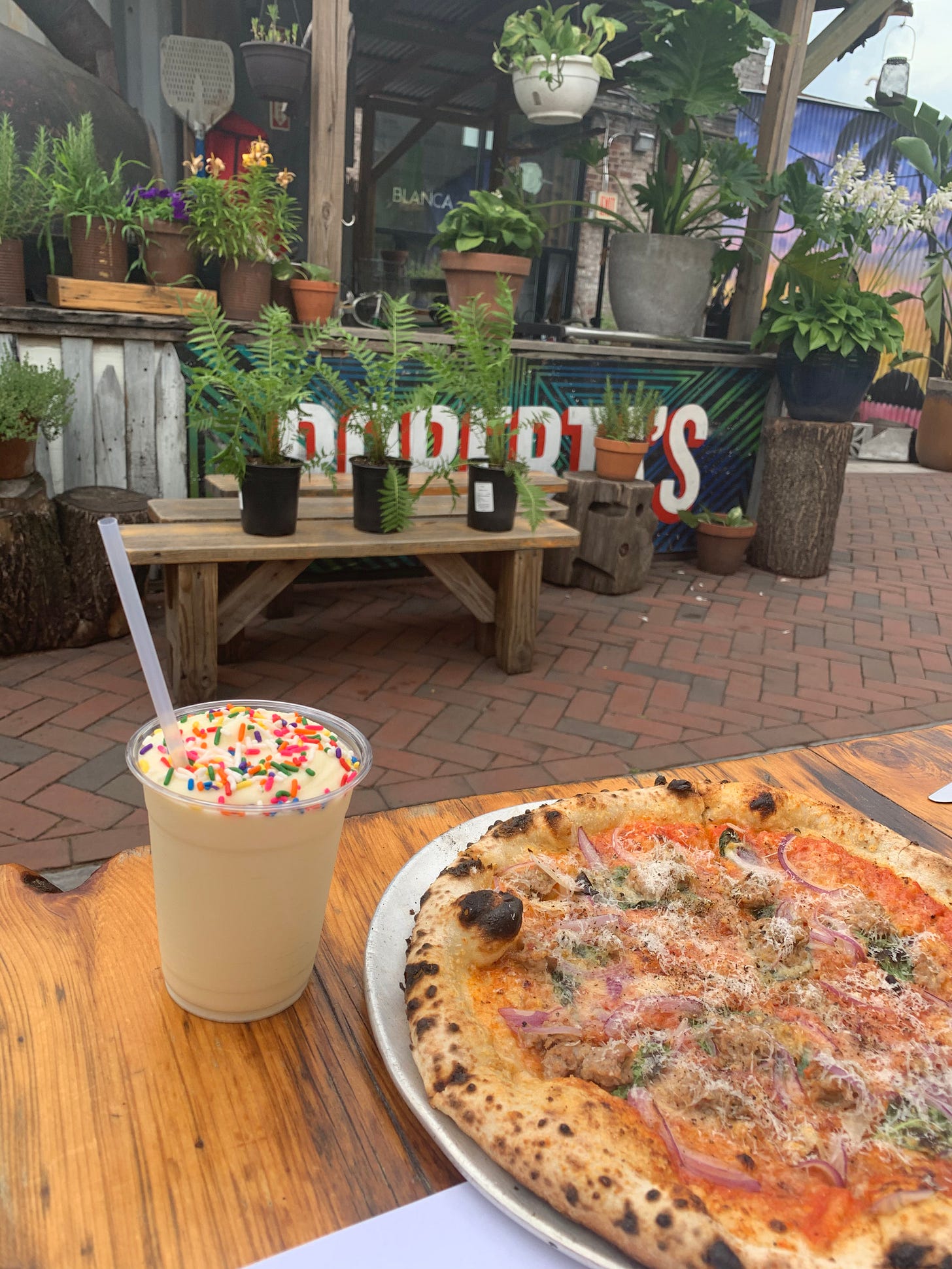 ---
Mood
---
If you liked this newsletter, please subscribe and share!
Follow me on:
You are not alone!