Discover more from Cruel Summer Book Club
A newsletter (and podcast) exploring change and living well. By Jillian Anthony
Over 1,000 subscribers
Part two: A long, messy, romantic, true love story
And the poetic gift Jens gave his future wife that was years in the making
Last week, I shared part one of Jens' story about experiencing and leaving a six-year abusive relationship. Now comes the good part: The complicated, beautiful and wildly romantic story of how Jens fell in love with his wife, Adrienne, and the handmade gift he gave her that proved his love for her was years in the making.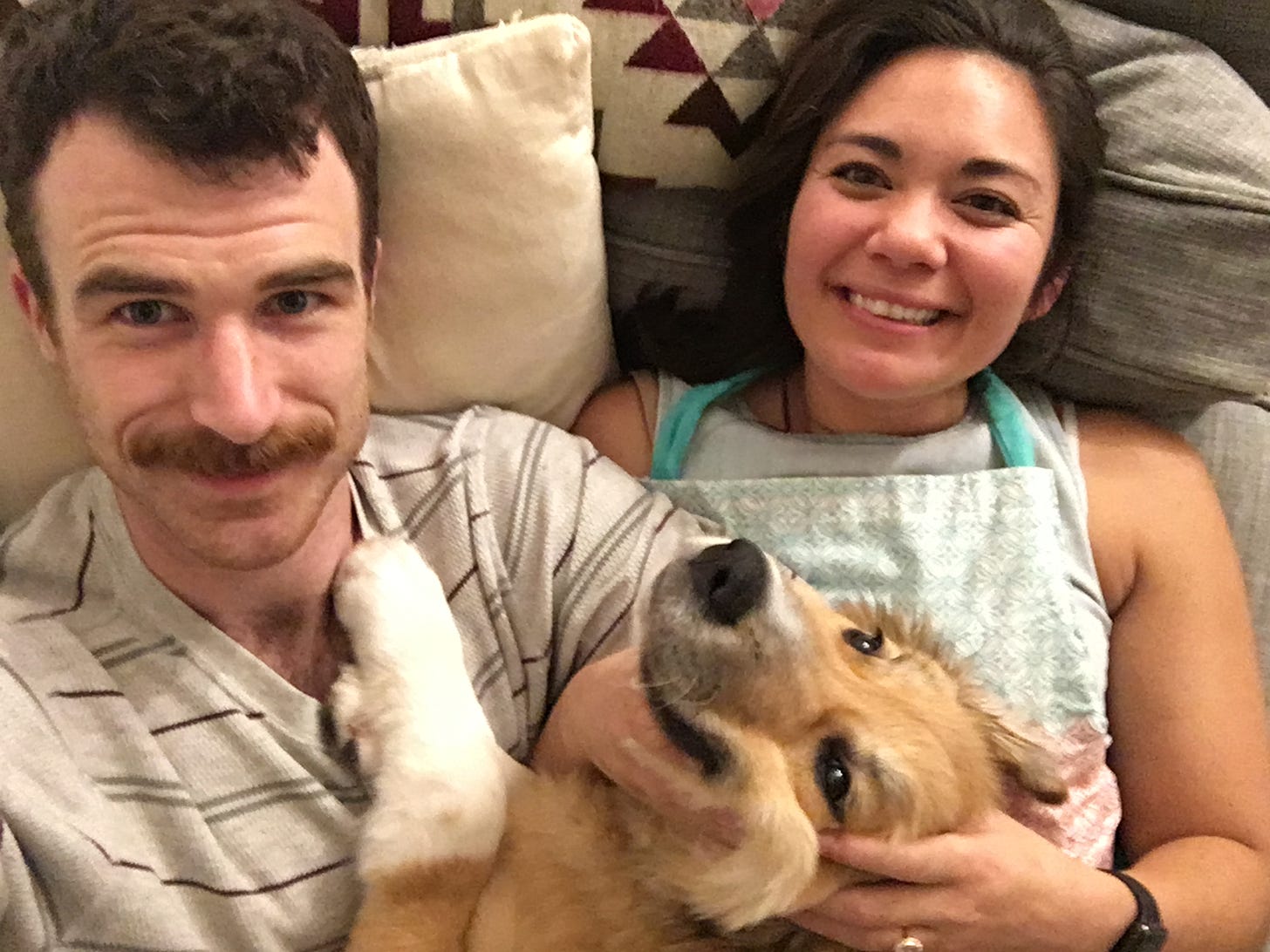 Jens, his wife Adrienne, and their dog Koa
---
Jens: In college I had a crush on this girl Adrienne, and Dominic* was closer to her than I was; he almost dated her. After college I moved away to Peru, and you think that the feelings will go away, but they didn't. I went to New York and kept in touch with her. Then I went home to Seattle for a wedding [in the summer of 2015] that Adrienne was at, and she told me she had feelings for me. I had liked her for three or four years leading up to that point. I told her, "I've liked you for so long." I probably over-reciprocated. I was like, "Oh my god, yes, I have a ring!"
Jillian Anthony: [Laughing]

So I went back to New York and I told Dominic that her and I had shared feelings for each other, and he said, "You need to move out. Get the fuck out of our apartment. Pack up all your stuff." To this day you can probably talk to Dominic and he'll be like, "Jens is super gay," because he told me in his anger, "I'm going to out you, I'm going to tell everyone that you're gay." But I never wanted to be with a man and I just am always horny for girls.
And that's okay. [Laughing] I remember you telling me about Dominic's reaction [to your feelings for Adrienne] and being like, why would he care about that?
He's so good at talking around things. I'd be like, I don't understand why you're upset. And he'd be like, "You don't understand? It's not obvious to you why I'm upset?" But never really answering the questions. You're not with her anymore and you're in the process of coming out and you're not with me. In this kind of obedience to him I called Adrienne and I broke it off, and I didn't talk to her for two months. I said, "I can't betray my best friend. I'm sorry."
What did she think when you told her that?
She was already jaded about a lot of men that had been dicks to her, and in her mind I was one of the nice guys, and then she was like, "This guy's a dick too?!" Like, I said yes then a week later called her and said, "JK, bros for life." 
But did she think the reasoning you were giving was overblown?
One thing I appreciate about her is that she's someone who never really fell under Dominic's spell. So she heard that and was like, okay, Dominic's manipulating the situation. But she was disappointed that I backed down and didn't speak up for myself. She went and had a really hard two months.
Back in New York, it was really hard for me to continue that lie to myself that everything was great. I thought, man, if I can't have this am I ever going to be happy? He's not going to let me have a relationship. Then I had a conversation with you about how he doesn't treat me well, and then I went to the therapist and broke it off with him and crashed on couches for a few weeks.
I flew back to Seattle to explain the situation to Adrienne. We met up in this really crappy coffee shop in west Seattle and I apologized to her. I told her the whole truth about Dominic over the years, and that I had broke it off. I told her, "Maybe you're not in the headspace, this is a lot, but I'd love to take you on a date." And she said, "No, but we can be friends." She told me those feelings had kind of died with that situation. I was like, oh my gosh, I had my one easy chance for this girl I liked who basically walked up to me and told me she liked me, and I threw it in the trash.
I was staying at my parents' house for a couple of weeks kind of recovering. I like to make wall hangings and furniture out of driftwood, so I made Adrienne a coat rack. I used these old coat hangers that I bought at the Brooklyn flea market and these pieces of wormwood I found on the San Juan Islands, and put some rope around it. I met up with her one more time before I went back to New York and said, "Thanks for still being my friend and I hope we can keep talking," and I gave her the coat rack.
We did keep talking, and I was back in New York for a few more months while I was waiting to move to Costa Rica for a job I got. Adrienne moved to eastern Washington for her first rotation in her physical therapy residency. Before I moved to Costa Rica I went to her small town, Colville, and we hung out for a few days and went on hikes and sat by the fire. I told her I still had feelings for her, and she said she didn't feel she was in that space where she could be in a relationship. So I was like, swing-and-a-miss two. Then I moved to Costa Rica [in early 2016] and she moved to her second residency a few months later in Honolulu, where she's from. I went to visit her again in the spring with my best friend.
Wow, you're traveling the world to see this person.
She's one of my best and oldest friends, but clearly I had a motivation here. So in Hawaii we stayed at her parents' place and I crashed on a couch. We went for a walk on the beach one day and I told her I really liked her still and I wanted to be in a relationship. At this point she did me a favor and said, "No, and you can stop waiting." I said, "Okay, I understand, and I won't bring it up again."
I'm amazed at your bravery and persistence because I know how tough that balancing act is. You don't want to lose the friendship, but you're also being really honest with yourself, and that's the third time you got rejected! That's hard. 
It was so painful, but in my heart I was like, I have to be her friend. I'm not going to be one of those guys who's like, "You don't want this? Then forget it!"
I remember talking to you during this time and being like, well, she told you how she feels, so I don't want you to be wrapped up in this forever.
Yeah. I've met people in similar situations and I have a hard time giving them the advice to do what I did because I know I have this romantic story, but, you gotta let go buddy.
So she said no and I was really heartbroken at that point. My family happened to be on vacation on a different Hawaiian island after I got rejected by her. So I island-hopped over there and my dad picks me up at the airport, and he knew I was going to ask her out again. He said, "How'd it go buddy?" And I just started crying. That was a pretty sad moment. So that was when people were like, okay, you've got to move on.
As far as being on your own, you really went for it. You moved to Costa Rica and then you moved to Hawaii in the summer of 2016 for jobs in the coffee industry. You were out there living the dream in a lot of ways, even though you were grieving this relationship with Dominic and also grieving Adrienne. Good for you.
Yeah. It's weird to feel two or three different emotions at once. Just one of those situations would have been enough. After I visited Adrienne in Hawaii [in the spring of 2016] I went back to Costa Rica for another month of work on a coffee farm. I went back a different person; all of my friends and coworkers could tell I was heartbroken. I was always thinking about it. I left Costa Rica and went to Nicaragua to work on this different farm, then Honduras. I felt like I had to keep moving to keep my mind occupied. One day I was like, I can't be here, and I just left. I packed all my stuff, got a taxi and headed for the border.
You were really struggling.
I was very alone. I would have moved back to Seattle but she was there, and I couldn't move back feeling so defeated. So I took a job in Kona, Hawaii and moved out there [in the summer of 2016] and was just grieving. It was kind of a nice place to do it. I had a 30-hour-a-week job then I would just hang out on the beach. It was like Therapy Island.
Then my friend Megan, who's Adrienne's best friend, called me and asked how I was doing. I told her, "I'm trying to move on but I'm having a hard time." And she was like, well, don't be too hasty in moving on. I was like, what the fuck are you talking about? You need to be straight with me right now or Adrienne needs to call me because I'm going to murder someone or myself. You can't let someone halfway heal and then say, "Wait! I'll be with you."
Yeah, you'd been working so hard. 
Adrienne still had feelings for me, but I hurt her a lot when I shut her down. I think she was really impacted by the way I was still willing to suffer through trying to maintain a friendship because I cared about her a lot and was willing to do that even though I wasn't going to get what I wanted. So in her mind she was thinking, I want to give this relationship a thought, and in my mind I was like, if this is a yes it means we're getting married! I felt like I found that person.
So she called me and said she wanted to give it a try, then she flew out to Kona a week later and crashed at my place. That was when we officially started dating. I was so emotionally exhausted. We're dating now?! I was just starting to heal and then she's like, psyche! I do like you. The thing that people may take a bad lesson from is, wow, if you just suffer enough like he did, she'll come around.
Yeah, that is not a good lesson to perpetuate.
I moved back to Seattle and we dated, and I proposed to her a year-and-a-half later in March 2018. The next day I went to her place and I gave her this dovetail-jointed box I had made for her out of oak. I had written her letters during the year she was rejecting me about how I loved her a lot and that I wanted to wait for her, [and those letters were inside of the box]. The box was locked, but I told her that she already had the key. I had given her the key two years earlier—it was hidden inside of the coat rack that I gave her after she shut me down the first time.
I had given her a necklace, so she thought the necklace was the key. I told her it was hanging on her wall and she started taking off all her wall hangings.
On the back of the coat rack I had carved a hollowed out space where the key was hidden. I put a little wooden plate over that so it was flat, then I laid this sheet of cork over the back of the coat rack. So she had to peel that off; she shredded the whole thing off with a fork or something. Then she had to use this tiny screwdriver to open it up and get the key. Then she was able to open the box and read the letters.
How did she react?
She was crying. I still have the video; her friend Megan was there to tape her getting all emotional. I almost threw the letters away the third time she shut me down. I think I only wrote one more letter after that, then I put them away and held onto them. That was how I demonstrated to her that I had really been committed to her ever since I messed up and shut her down. I had really waited for her for a long time.
That's truly the most romantic, old-age thing I've ever heard, and I love hearing this story every time. I didn't realize that you did that after you'd been rejected three times. Holy shit. 
Yeah, those were painful letters to write. 
You really had a lot of faith in your heart.
Faith or desperation, I don't know which one. We got married six months later. 
And I was there and it was so beautiful.
It's nice to end the story on a happy note. The reason I felt so committed to her, and still do, is she's someone who saw me for what I was worth when I thought that my worth was attached to another person. She saw through that when I didn't even see through that myself.
How long have you guys been married now?
A year and ten months. So we've really proven the test of time. And we've already got a dog named Koa. So you're back in New York. What would you do if you accidentally met someone?
What are the chances? Probably less than zero at this point when everyone's wearing masks and no one's allowed to go out.
It sounds like the perfect premise to a rom-com. 
I love your attitude and I hope to replicate it myself. I'm open-hearted and willing, and I believe in my own capability to love more than ever. When it's time, I'm ready. 
Careful when you come visit this fall—my cousin who lives next door is single.
Is he ready for me?
I'll have to keep my eye on you two. I don't want to hear anyone tiptoeing across the dock.
Well Jens, all of these things led you here and made you who you are. Listening to your story gives me hope that there are happy endings to be had. 
*Name has been changed.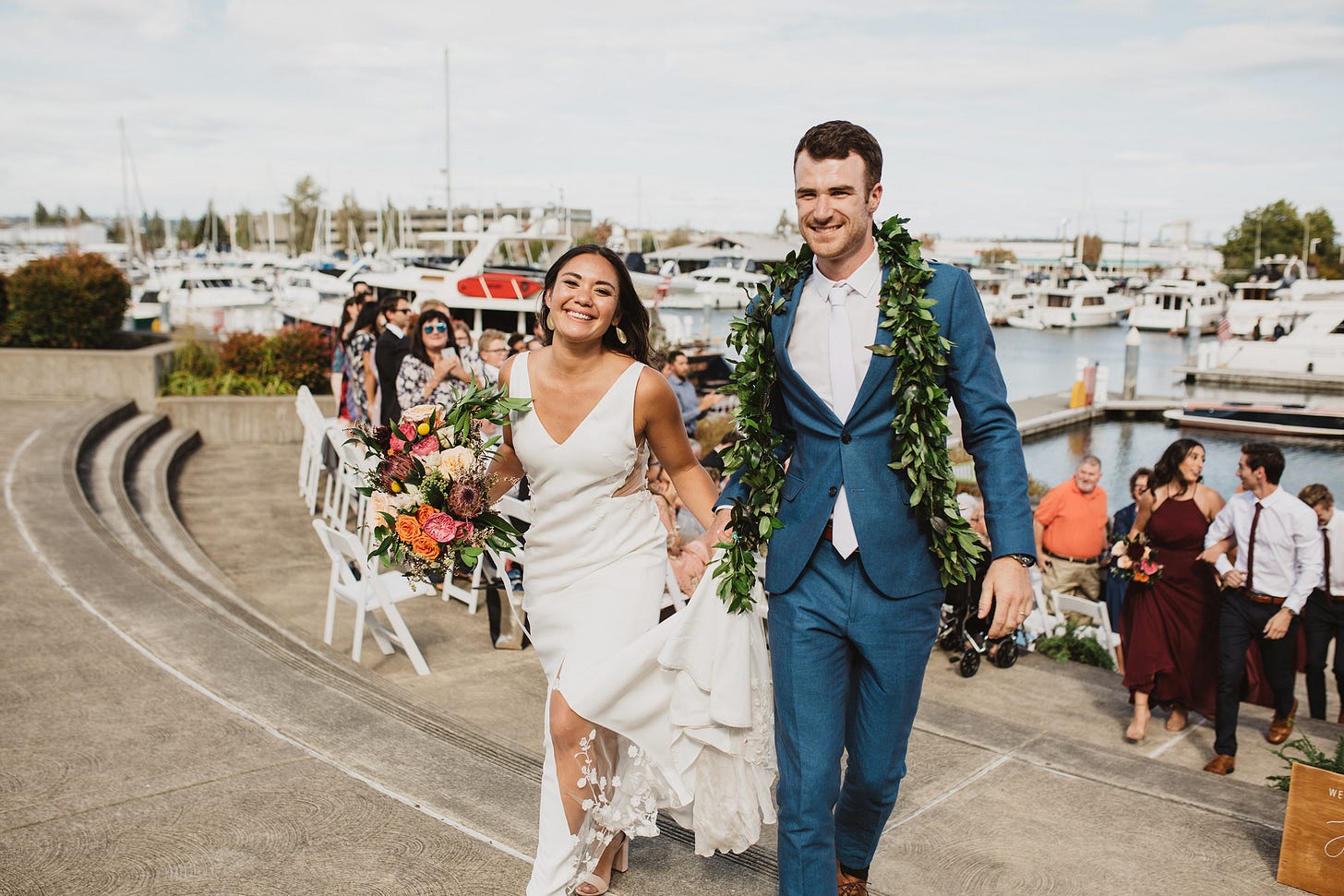 Adrienne and Jens on their wedding day, 2018
---
If you liked this newsletter, please subscribe and share:
Follow me on:
You are not alone!