Discover more from Cruel Summer Book Club
A newsletter (and podcast) exploring change and living well. By Jillian Anthony
Over 1,000 subscribers
Rituals
Craving structure to make way for creation
Before we begin:
What are the rituals that shape your life and creativity? Respond to this email, or email me at cruelsummerbookclub@substack.com.
---
Sob story
In the first month of 2020, I carved myself a crystal cave and crawled inside to rest. There, by the flicker of candlelight, I crafted mystical rituals to usher me into prosperity.
I filled out my Year Compass, said a final goodbye to the hardships of 2019, and got to work. I used the four-square model to figure out what my priorities for the year should be. I wrote down four categories (Me, Friends/Family, Career, World), then listed three of my soul's truest desires and intentions in each. Anything not on this chart shouldn't be something I put mental or physical energy into this year, period.
"Me" included creativity, travel, and conceiving personal rituals. "Friends and family" focused on those in my inner circle, and spending quality time with them—so, less all-day drinking sessions, more cooking together and walking in the park. "Career" pointed hard to writing. And "world" found me staying politically informed and active, as well as finding a regular volunteer opportunity to work with young women. Noticeably absent from this list: dating.
Now, it was time to construct my life accordingly.
I started Whole30, cooked plenty of healthy meals for myself, and got back into the gym at 7am for weightlifting, and yoga on Fridays. I spent a lot of time alone, quiet, journaling, meditating, taking long walks, chattering away to my cat and my plants. On Saturday mornings, I poured a cup of coffee, burrowed back into bed, did a tarot pull, and sat with my thoughts. I talked on the phone more, said "I love you!" with zeal. I felt a refreshed energy toward the newsletter, and lined up guest entries and interviews. I relentlessly tried to use my phone less, hiding it in another room whenever I could, meditating on the train rather than uselessly refreshing my Twitter feed 20 times underground. My morning and night routines grew holy, and I worked hard to stop procrastinating (a form of self-harm). I listened to Ariana Grande albums on repeat. I began planning my first solo trip for my upcoming birthday.
And, of course, I read a lot. Last week I finished Daily Rituals: Women at Work by Mason Currey, a look at the creation rituals of 143 women artists. (Currey called it a "corrective" version of his first book exploring artists' rituals, which included many more men than women.)
Within Currey's pages are the schedules, quirks, insecurities, hardships, addictions, flaws and strengths of many beloved women throughout history, both deeply comforting (famous artists—they're just like us!) and inspiring. The book also shines a hot spotlight on the inequalities women once faced, and those they still do. And, the curious companionship of grief and creativity.
These women rose from their pages to step into my crystal cave, to dance and dine and celebrate each other, to honor this tender moment in time. We collectively threw our rituals into the air, then reached out to seize a new one.
***
The following are paraphrased details from Daily Rituals: Women at Work:
Virginia Woolf (1882-1941) "used her diary to keep track of her output and chide herself for unproductive days."
Writer Dorothy Parker (1893-1967) was a dreadful procrastinator and missed all her deadlines at the New Yorker.
The painter Alice Neel (1900-1984) raised two sons alone in poverty but still painted daily, working while they slept or while they were at school.
"If you decide you are going to have children and give up painting during the time you have them, you give it up forever," Neel said. "I felt women represented a dreary way of life, always helping a man and never performing themselves, whereas I wanted to be an artist myself! I could certainly have accomplished more with a good wife. That is quite male chauvinist, but this was the world with which I was confronted."
Poet Emily Dickinson (1830-1886) spent the last 20 years of her life never leaving her home grounds in Massachusetts. She was known for having nervous energy, which she poured into her poems. She wrote in waves, penning hundreds of poems for a couple of years, then none for the next couple.
Author Margaret Walker (1915-1998) began to write her first novel, Jubilee, when she was 19, but it took her three decades to finish it. After she married and had four kids, she didn't touch the book for a seven-year period. She finally finished Jubilee by attending grad school at the University of Iowa, temporarily separating herself from her family.
"People ask me how I find the time to write with a family and a teaching job. I don't," Walker said. "That is one reason I was so long with Jubilee. A writer needs time to write a certain number of hours every day. This is particularly true with prose fiction and absolutely necessary with the novel. Writing poetry may be different, but the novel demands long hours every day at a steady pace until the thing is done. It is humanly impossible for a woman who is a wife and mother to work on a regular teaching job and write. Weekends and nights and vacations are all right for reading but not enough for writing."
Painter Tamara de Lempicka (1898-1980) would put her daughter to bed, go party all over Paris, come home in the wee hours and paint, then be sure to always be up with her daughter for breakfast.
"There are no miracles," she said. "There is only what you make."
Sculptor and installation artist Petah Coyne (b. 1953) wakes daily at 4:30am, is at her studio by 7, works on two pieces at once, gets home at 8pm, and is in bed by 9. She eats the same meals every weekday—oatmeal and berries, salad and miso soup—and wears a uniform of black turtlenecks, pants and socks. She takes each Sunday to laze around with her husband. But in the beginning of her career she worked even more strictly: after her advertising day job she'd sculpt all night, regularly arriving at work without sleep.
"When I would show up in the morning [at work], I would be dead," she said. "But I would say to myself, 'We are going to do this, and we are going to do this.' You can talk yourself into anything."
Italian novelist Natalia Ginzburg's (1916-1991) husband was murdered by police at the age of 34 for being anti-Fascist, after which she wrote the essay "My Vocation," which discusses the difference between writing out of happiness and out of misery.
Years later she said, "I have to say that as life went on I understood that when you are more adult, a state of mind is less important to writing, in that at a certain stage in your life you have so many losses that there is always an underlying unhappiness. And therefore it influences less. You learn to write in any state of mind and you feel more… I wouldn't say distant from your own life but a bit readier to dominate it."
Composer and choreographer Meredith Monk (b. 1942) works in long periods of solitude and said, "I like to start from zero with every piece, even though it's very risky and even terrifying at the beginning. At some point the fear gives way to interest and curiosity. Over the years I've learned how to tolerate hanging out in the unknown. Discovery begins there."
Author Alice Walker (b. 1944) moved to three cities until she felt her characters in The Color Purple could finally "speak" to her. When Walker's daughter, Rebecca, came to live with Walker, the characters luckily decided that they liked her. Later in life, Rebecca said her mother was absorbed in her characters rather than her daughter. They eventually stopped speaking. 
Writer Susan Sontag (1933-2004) was a very social person but knew solitude was required for her work. She wrote in physically punishing positions for many hours at a time.
"I think of writing like being in a balloon, a spaceship, a submarine, a closet," she said. "It's going someplace else, where people aren't, to really concentrate and hear one's own voice…" She was also on speed (Dexamyl) for much of her adult life. "It eliminates the need to eat, sleep or pee or talk to other people," she said. "And one can really sit 20 hours in a room and never feel lonely or tired or bored. It gives you terrific powers of concentration."
Australian painter Stella Bowen (1883-1947) said in her 1940 memoir (after separating from her cheating husband), "If you are a woman, and you want to have a life of your own, it would probably be better for you to fall in love at seventeen, be seduced, be abandoned, and your baby die. If you survived this, you might go far!"
---
I'm also reading
An annual mood: Name a roach after your ex at the Bronx Zoo for Valentine's Day by Shaye Weaver at Time Out New York
When grief and work mix, there are no easy answers by Katie Hawkins-Gaar at Fortune
The thirty-something life crisis by Rachel Friedman at Vox
Cult of the literary sad woman by Leslie Jamison in the New York Times
I quit dating entirely, interview with Mae-sa Dixon by Sanam Yar in the New York Times
Maybe it is also an empowerment thing, that I don't need attention from a man at all, that I have myself. All of my sleepless nights staying up crying, wondering if he's ever going to call me again, if he still likes me, do I have worth outside of my vagina — all these doubts just left when I quit dealing with men. I have never been happier. It's such a freeing experience.
Thank you, Helena Fitzgerald, for the final edition of Griefbacon:
"Joy is coming" is very different from "it gets better." Joy is coming, but it might not fix anything. It might not change anything for longer than a moment. There will be a time other than now, when you will feel something different, something opposite, from this, when you will feel joy. Maybe that time will be the balance of your life; maybe it will be an hour, or less than that, a fleeting second or two grabbed out of the air like a passing smell. Joy is coming, though. Something else will happen, and you will feel something else. "Something else will happen" is the bleakest reassurance which is why it is the best one; it is always true. Things don't always get better, but something else always does happen. Joy will overwhelm this moment, unearned, selfish, useless, joy thrusting up out of the ground, frankly rude of it, like the green shoots and new leaves in the first chilly, teeth-edge-hopeful days of spring. Spring is my least favorite season and then every year when it arrives I swoon around, drunk on all the newness and mad at myself for falling for it, somehow, once again, against all odds, here it is. Joy is coming.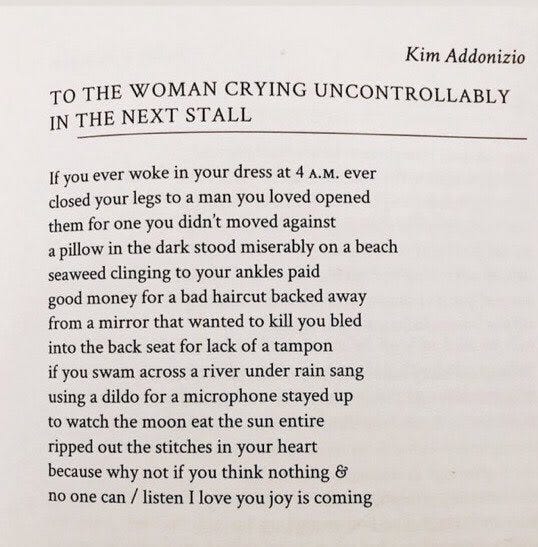 I'm listening to:

The Long-distance Love Bomb podcast: Mark Groves- Are life transitions really just invitations?
The Goop podcast: Why self-esteem is a fair-weather friend
---
Questionable self-care advice
---
Support I got that you might need to hear
Focus on the reality, not the fantasy.
---
Minerva moment
I did an 11-card pull for 2020 yesterday and it was such a pleasurable way to consider the year ahead. Swipe right to see the framework from
@mysticmondays.
And my forever thanks to
@mylifeinpichtures
for gifting me this beautiful deck that allowed me to create a new ritual for self-discovery. 🔮
---
This cheered me up
Buying myself the most beautiful, fragrant, long-lasting bouquets from Trader Joe's: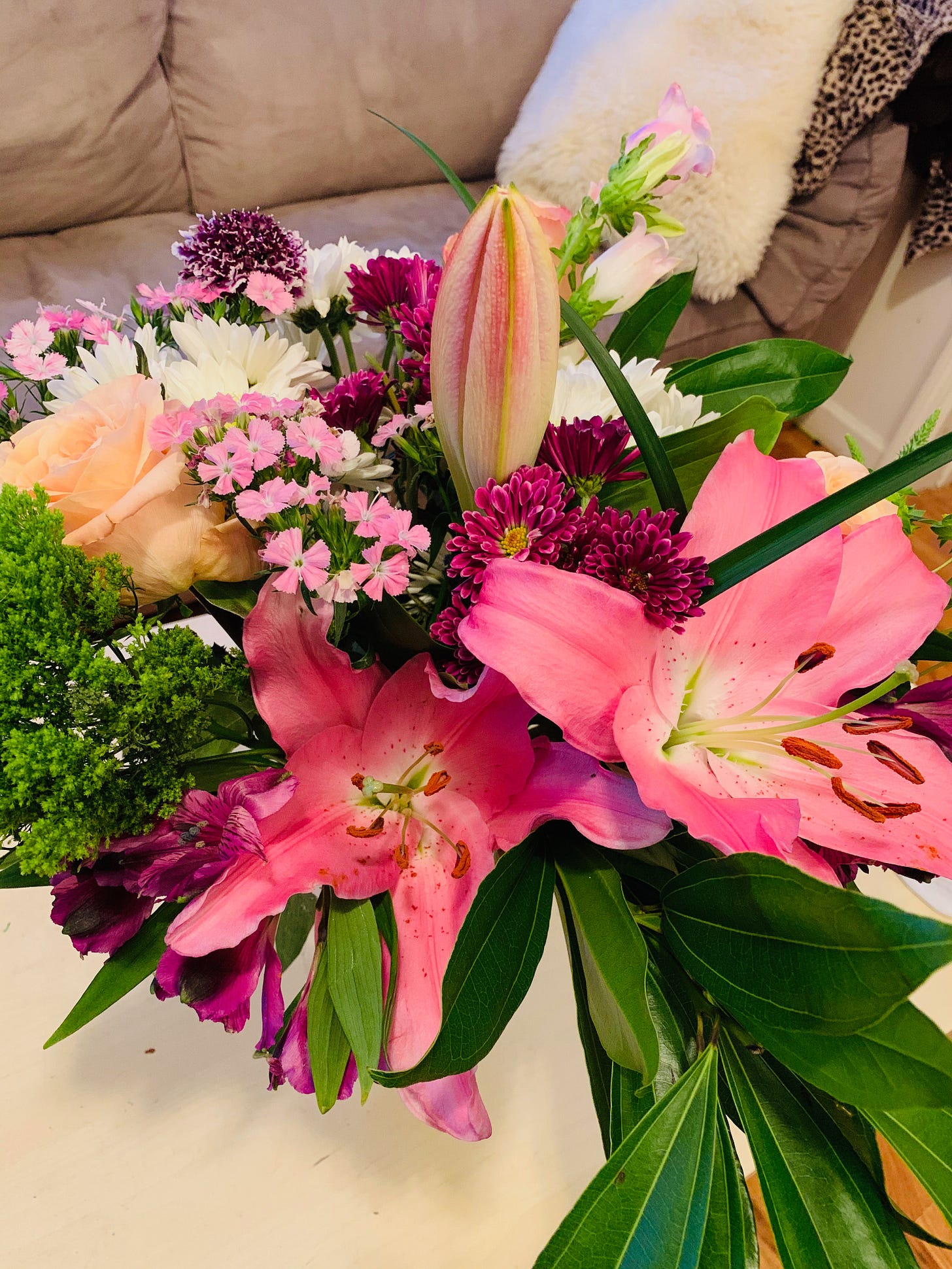 ---
Anthem of the week
Say it with me now: "I'm just too good for that half-love."
---
Mood
---
Cruel compliments
Thank you to the Twitter angels who mentioned Cruel Summer Book Club as one of their favorite newsletters written by women in response to Alana Levinson's callout:
---
If you liked this newsletter, please subscribe and share!
Follow me on:
You are not alone!