Discover more from Cruel Summer Book Club
A newsletter (and podcast) exploring change and living well. By Jillian Anthony
Over 1,000 subscribers
Summer was a real bummer
Goodbye to you
Sob story
A Labor Day of pouring rain and thunder signals only one thing: summer is over. I am so relieved. The summer of 2019 can fuck off into the sun. I'm ready for a season associated with death and decay because, for months now, I've been killing things off.
For a long time while we were together, I turned toward my partner, over and over, and asked him to do the same. Instead, he repeatedly turned away from me. That was painful. Then on the June day he suddenly, brutally cast me off for good, the real pain began. I held a lonely funeral for a life I loved, the dreams I harbored, and the man I shared all of that with. A funeral may mark an ending, but it also marks the beginning of a mourning process that has a lifespan all its own. I took a melon baller and carved chunks of hope from my flesh. Once the biggest pieces were gone, their myriad roots remained. I commanded a pair of tweezers, painstakingly plucking each one from its bedrock, severing the nerve endings. Over days, then weeks, then months, my body gently began to return to itself.
I could call this my lost summer. But every moment, I was here. Mostly, I ached. But I also worked, socialized and traveled. I roasted my naked skin in the Las Vegas sun, and wore pasties to the Mermaid Parade in Coney Island and mesh to Pride, and swam in the ocean on Fire Island, and walked to the Grand Army farmers market to pick ripe peaches and eat one on the way home, and stopped at the ice cream truck on Ocean Avenue to get swirl cones with rainbow sprinkles. One day, I dragged my body to the queer part of Riis Park Beach, where the sand exploded with nudity and plastic cups filled with rosé and beats by Kim Petras—I was in such acute emotional pain that I could barely speak. An acquaintance there hugged me tightly, for too long, and told me that I should call her to hang out, that sometimes new friendships help during hard times. I melted into her embrace; I listened to her. I made new friends who saw something good in me when I was near my worst. I received so much kindness. I went to a Bushwick apartment that felt a lot like heaven, with a pirate-themed backyard and a basement packed with stylist Haile Lidow's collection—Prada flaming heels stacked next to custom-bedazzled 8-inch platforms—and remembered that I love New York City most when I'm surrounded by freaks full of passion and ambition. I went to C'mon Everybody to see my immensely talented roommate perform, went next door to Chilo's to eat the best fish tacos I've had on this coast, and danced all night to the Spice Girls—I recalled how sweet it felt to be 24 in Brooklyn, drunk on Fireball, high on risk, unbothered by threats of hangovers or lost love. I painted my nails every shade of neon and applied bold lipstick to match and stomped around the city in outfits that screamed "Actually, I'm doing great!" I stopped wearing bras. I went to every party I was invited to. I left them all early. I saw TJ and Dave and A Strange Loop and Jacqueline Novak and John Early. I walked the halls of the Whitney Biennial then rode a Citi Bike along the West Side, past the Frying Pan and the Intrepid, till I reached the really steep part of Riverside Park and turned back. I walked every inch of Prospect Park (and stalked a family of swans), and miles and miles of Manhattan, reclaiming the lengths of my city. I read a dozen books. I wrote and wrote and wrote. I started this newsletter. Tragic stories from strangers and people I hadn't spoken to for years began to pop up in my inbox and DMs; I read them hungrily, reaching across the void to other people marinating in hurt. I found that vulnerability is often rewarded. I simply kept going.
Slowly, I noticed that my life—the vibrant one I built for myself years before that man ever brought my lips to his—was still just as I left it. That I never left it; I invited him inside to share it with me, and we did so with gusto, until he departed, and it was solely mine to live once more.
I'm still shedding that heavy summer skin, but I do feel lighter. In the mornings when I wake and ask myself "What would you like to do today?" I try to take my time, give the answer thought, feel out what excites me and fills me. The possibilities are infinite, and the choice is mine alone.
---
#CruelSummerBookClub reading list
Once More We Saw Stars by Jayson Greene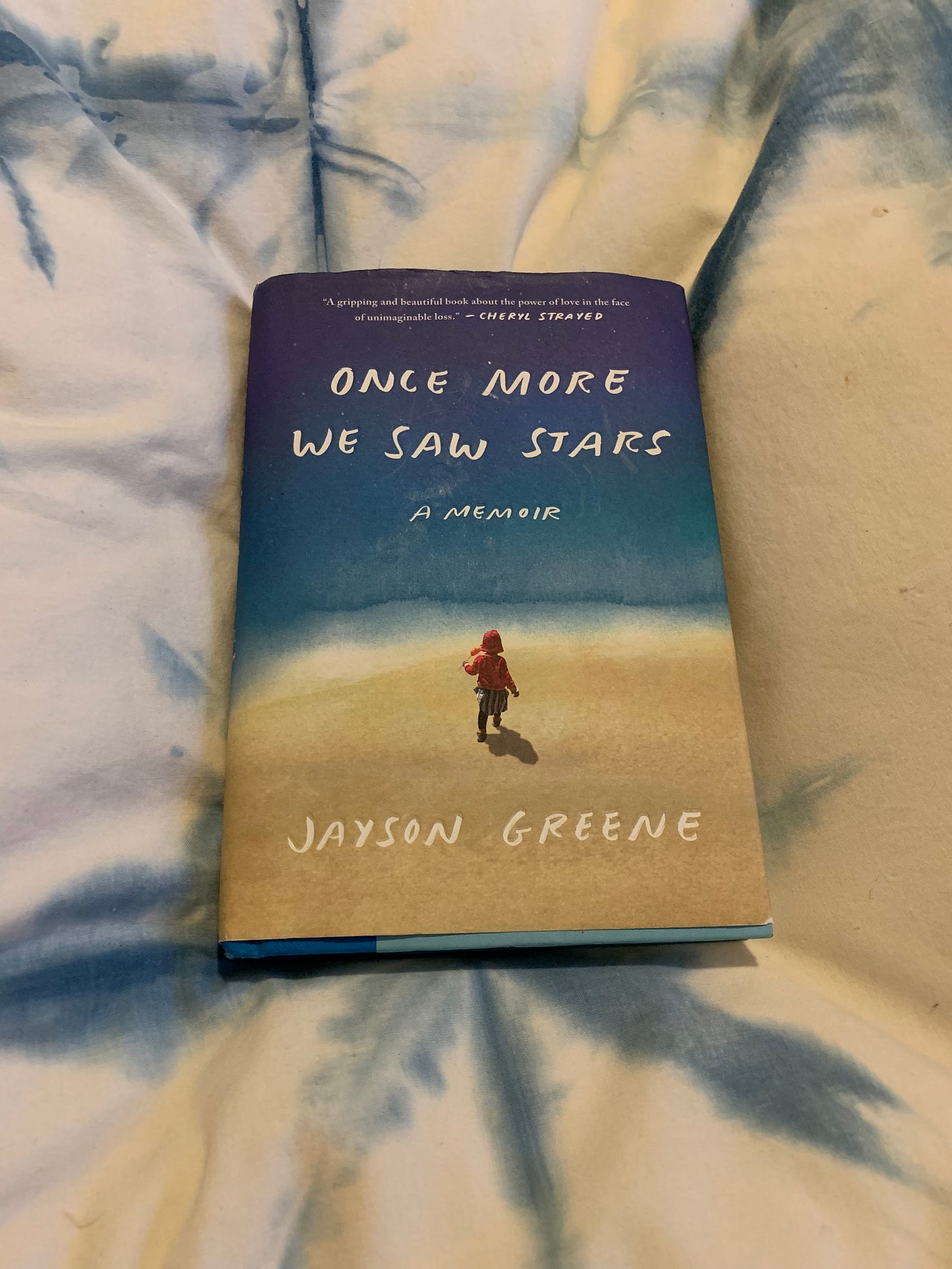 Be warned: this book will wreck you.
When my breakup first happened, I went wild ordering sad memoirs, and soon I had this devastating read to keep me company as I sobbed in bed, and on the subway, and at the nail salon, and on a Tribeca park bench, and then in bed again. (Crying in public and being utterly ignored is one of New York City's most redeeming qualities.)
Brooklynites Jayson Greene and his wife, Stacy, lost their two-year-old daughter, Greta, in May 2015. She was sitting with her grandmother on a bench on the Upper West Side when a piece of building inexplicably fell from the sky, hitting Greta in the head. Greene, who worked at Pitchfork at the time, describes the excruciating days spent sitting vigil by Greta's near-lifeless body as everything was put in order for her organ donation. He writes about the months he spent wanting to die, how Greta's death tore apart their greater family in surprising, heartbreaking ways, and the grief retreats he and his wife sought out. While he and Stacy jointly felt this loss and supported each other through it, he notes how Stacy's grief was often solitary and inaccessible to him. At the same time, his own grief seemed to defy dimensions to keep Greta close to him: 
As my chest swells like a bellows, I feel her presence filling up my heart, and with it comes a strange exhilaration that I have felt often in the weeks after her death. Grief at its peak has a terrible beauty to it, a blinding fission of every emotion. The world is charged with significance, with meaning, and the world around you, normally so solid and implacable, suddenly looks thin, translucent. I feel like I've discovered an opening. I don't know quite what's behind it yet. But it is there. I open up into a sprint, liberated.

I am treading ether, a new and unfamiliar kind of contact high. I have been raised secular by my parents, and I've never set foot in a church for more than an hour. But I will do anything for Greta, I am learning. And that includes becoming a mystic, so that I might still enjoy her company.
There is no "happy ending" or neat resolution to this book, as there is none with grief, but Greene's memoir is an engrossing description of how one relearns how to live, and find new joy, after a shattering loss. Grief cracks us open and fundamentally changes us. Perhaps the one thing we can do is remain willing to be transformed.
---
I'm also reading
Lena Dunham on her big breakup and learning to be alone again in Vogue
A stay at the Taco Bell Hotel in Palm Springs by Mitchell Kuga in Condé Nast Traveler
Her husband of 30 years, suffering from dementia, kept asking her to get married. She finally said yes. By Lynda Elizabeth Jeffrey in The New York Times
Things to do in New York City by Helena Fitzgerald in her newsletter, Griefbacon. This is a must-read.
Hundreds of people talk about what it's like to be single by Haley Nahman in Man Repeller
How I learned to stop being a "chill girl" and start being me by Martine Thompson in Vogue
On breakups by Hanif Abdurraqib in The Paris Review. WHEW, this one got me:

---
Support I got that you might need to hear

---
Minerva moment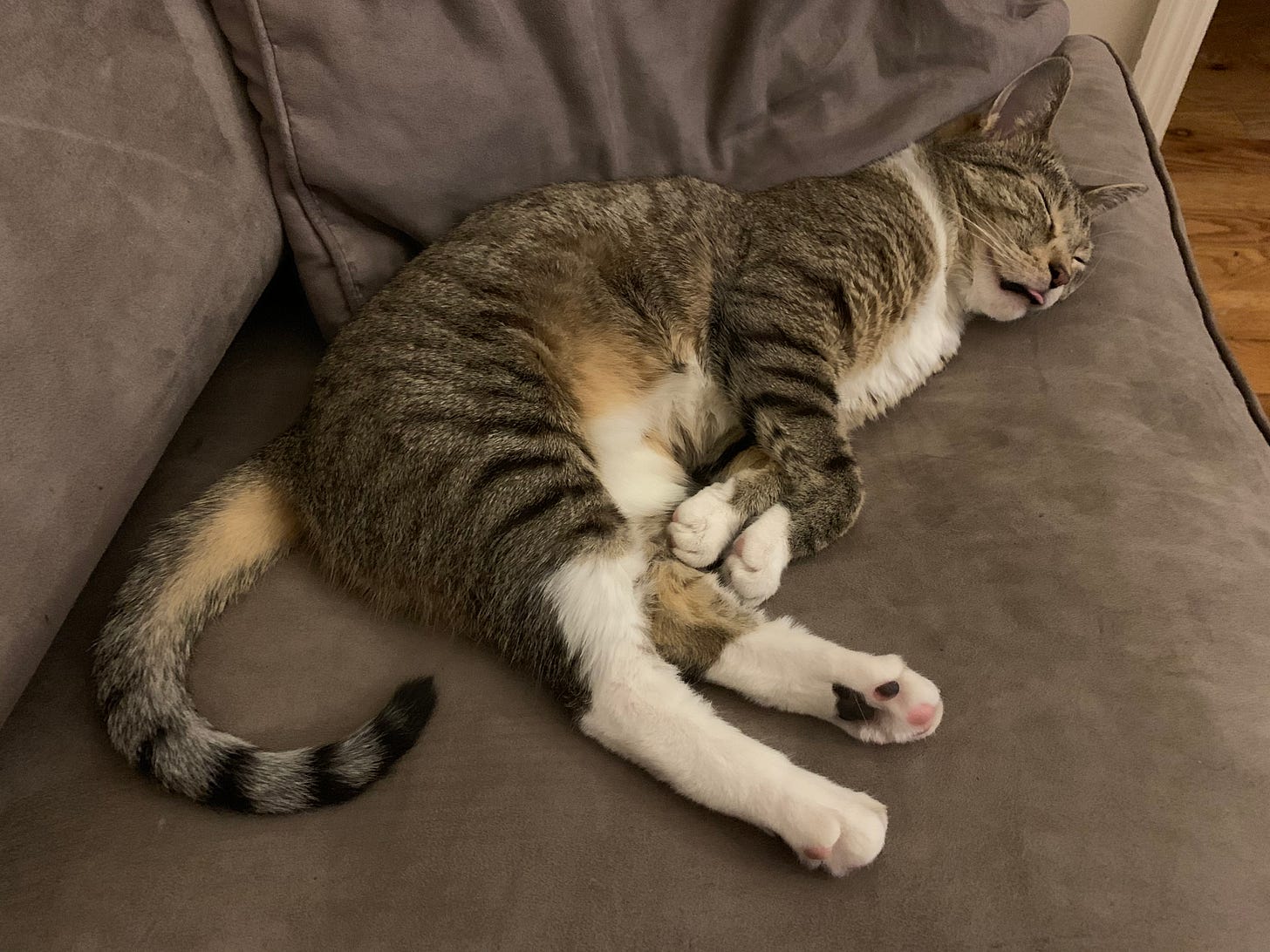 Computer ENHANCE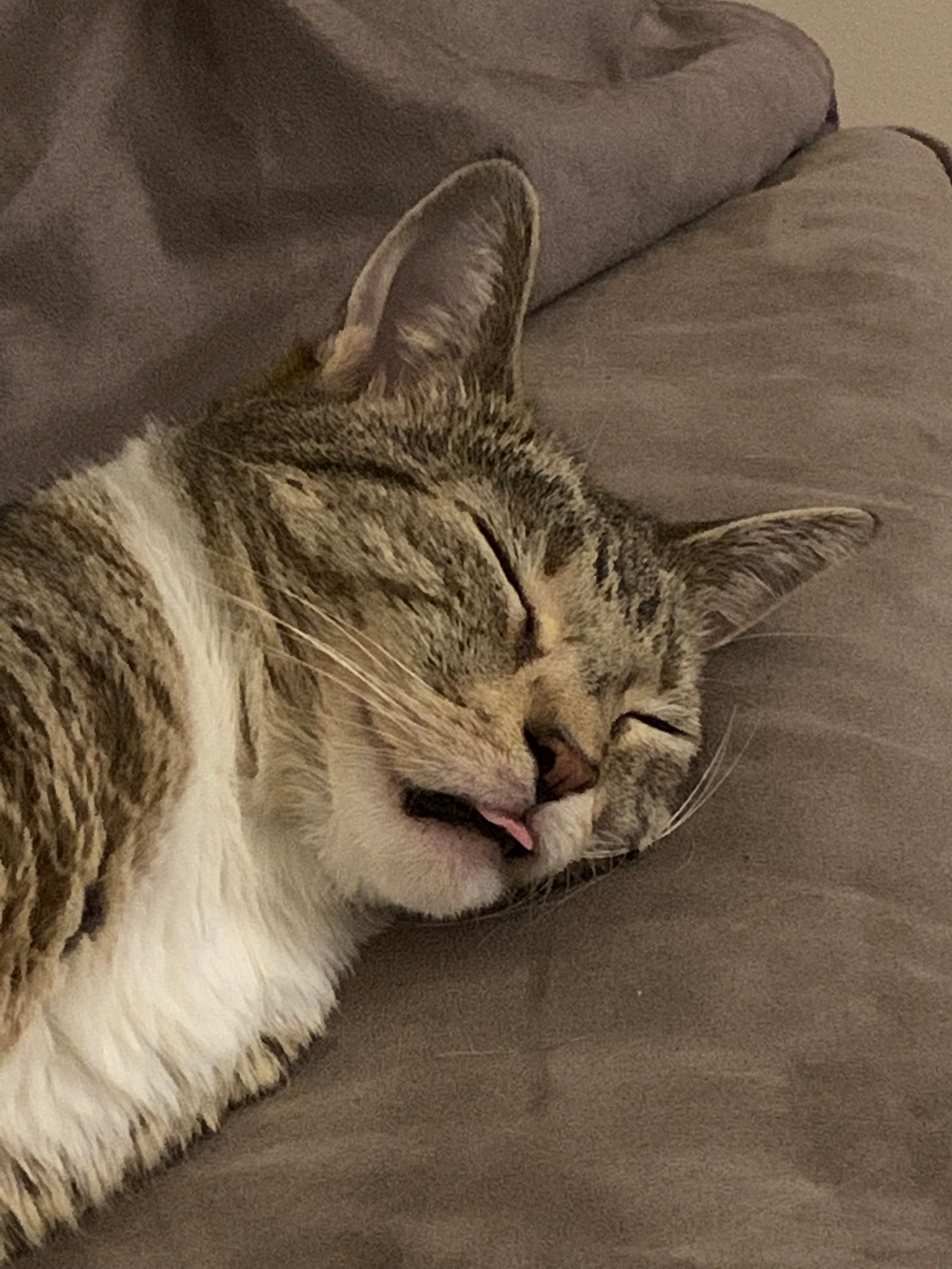 ---
This cheered me up
Playing with this husky puppy at Manhattan Puppies & Kittens on the Upper West Side. You can just go there and play with puppies guys!!!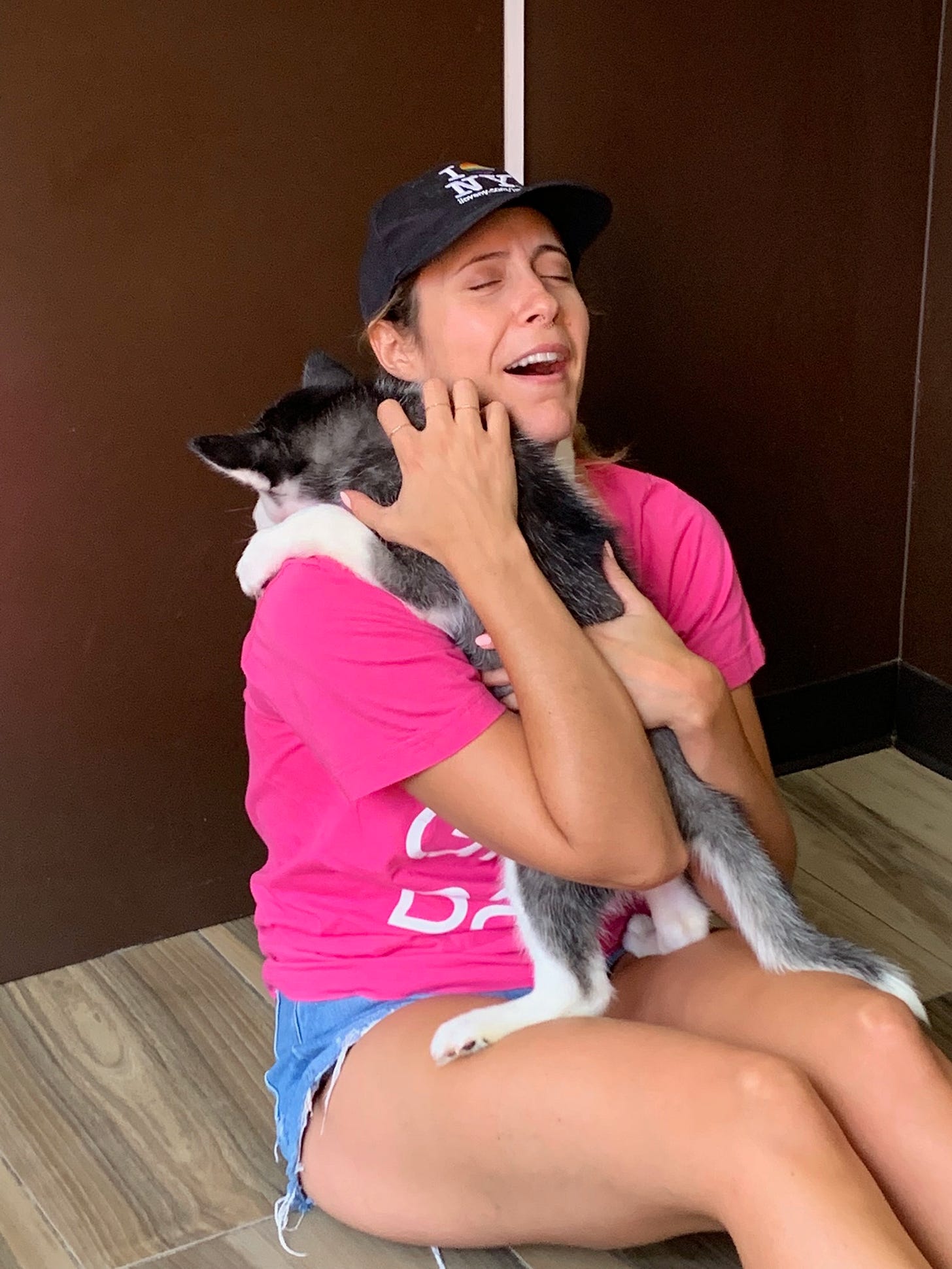 ---
Anthem of the week
"Cruel Summer" by Taylor Swift. What else?
---
Mood
---
Next week
I'll share my interview with psychologist Guy Winch, author of How to Fix a Broken Heart. I listened to his Ted Talk of the same title about a dozen times within the first couple of weeks of my breakup. (You can read more about what I thought of the book here.) Winch says that heartbreak isn't a journey; it's a fight. You'll read his thoughts on going to battle and why heartbreak never gets easier (my biggest question) next Tuesday. Go pick up the book—it's a quick read—and remember to order from your local bookstore whenever possible.
If you liked this newsletter, please subscribe and share! And you can always email me —I'd love to hear from you.
---
Cruel compliments
Follow me on:
You are not alone!