Discover more from Cruel Summer Book Club
A newsletter (and podcast) exploring change and living well. By Jillian Anthony
Over 1,000 subscribers
What I can do now
How to be anti-racist today, and every day
I stepped off the plane at JFK on Wednesday night into an entirely new season. The air weighed on me and smelled of East Coast rain, familiar and comforting like the aroma of my mother's chili wafting upstairs. I opened my apartment door and breathed in the scents of my home as a stranger would. I marveled at how my plants had grown and thrived, carefully cared for once a week while I was gone. Minerva pawed around the house, sniffing this and this and that, and quickly settled back into a rhythmic schedule of sleeping and snuggling. My roommate returned the next day, and our family unit was united once more.
I spent hours of the next two days wandering Prospect Park, which I last saw as the first buds of spring emerged from naked tree limbs. Now, the branches breathed and the pond bubbled up through a blanket of green algae and turtles had orgies on sun-soaked rocks and robin chicks' heads bobbled in their nests as they gasped to be fed. New Yorkers were everywhere enjoying their summer as usual, with one stark difference: each and every one of them wore masks.
On Saturday, I walked through the park to join the roaring and peaceful protest for Black Lives Matter at Grand Army Plaza. I planted my feet in the street to stop cars on the roundabout—many of them honked enthusiastically in support of the crowd, throwing their fists out of their windows and getting out of their cars to take videos. We marched down Flatbush Avenue, essential workers stepping out of their bodegas and medical offices to cheer us on, people hanging out of their upstairs apartment windows waving signs and banging pots and pans. We stopped at Barclays Center to gather our numbers and face off with a few dozen cops. Then we were on our way again, saying their names: George Floyd. Ahmaud Arbery. Breonna Taylor. I cried for them, for my broken country, for the unbearable grief of Black people in the United States that I can't begin to comprehend.
We walked down Atlantic Avenue and moved onto the Brooklyn Bridge. In the middle, I paused to look over at the Statue of Liberty; in front of and behind me, all I could see were protestors. We walked off the bridge into downtown Manhattan, the first time I had stepped foot in the borough since March 13. Soon, a monsoon broke from the sky. Soaked, everyone marched on.
I marched with my Brooklyn community again on Sunday. Among these tens of thousands, I was home.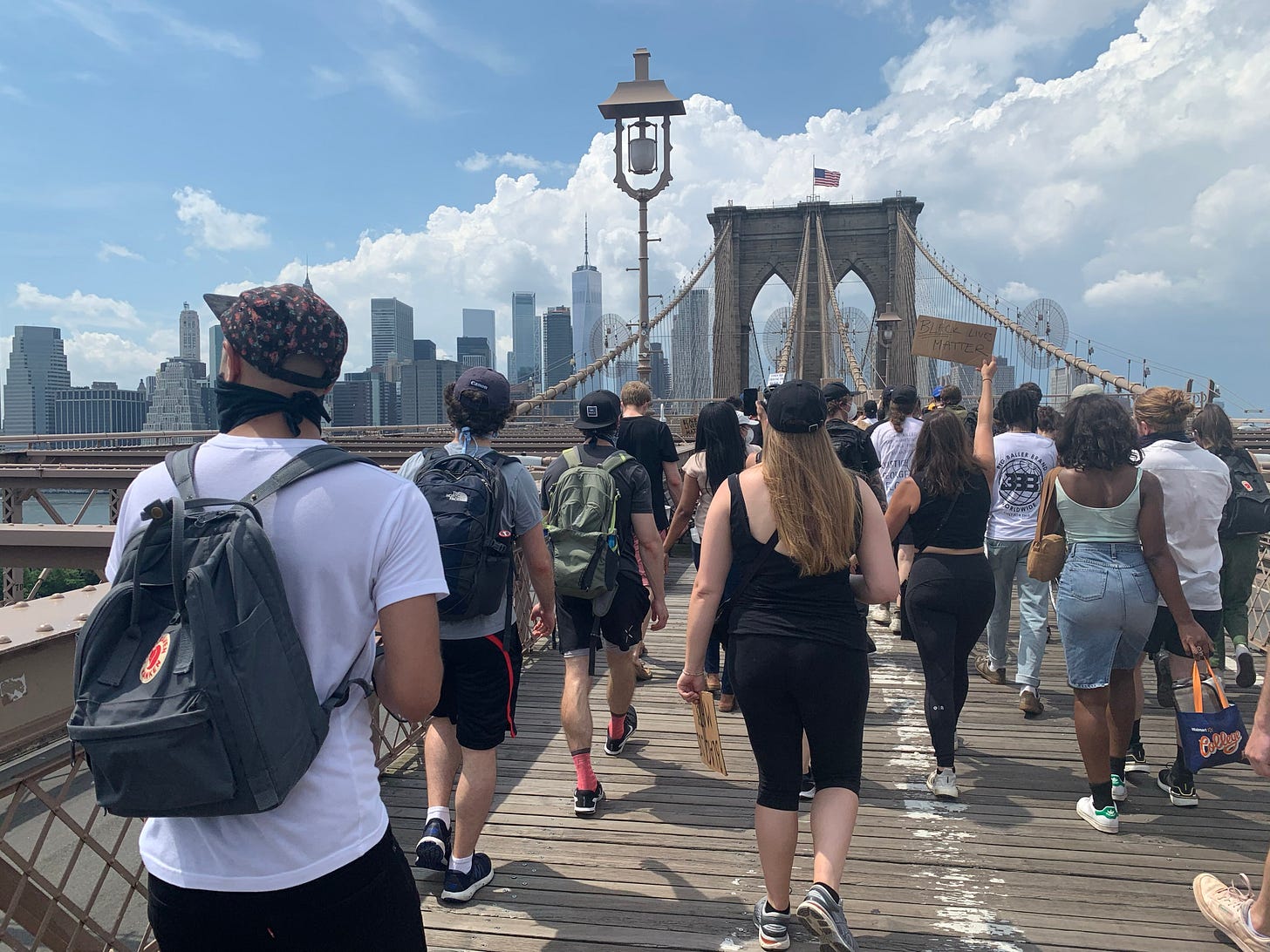 It's been 11 days of reckoning. Protests have occurred in all 50 states, and in many ways, they've worked. The Minneapolis City Council voted to dismantle the city's police department. Democrats introduced a bill in Congress to end excessive police force. George Floyd's killer, Derek Chauvin—a 19-year police veteran with 17 previous misconduct reports—has been charged with second-degree murder and manslaughter. The three other cops who stood by and let Chauvin continue to kneel on Floyd's neck for nine minutes were charged with aiding and abetting second-degree murder and manslaughter. NYC's mayor, Bill de Blasio, pledged to cut the NYPD's funding, but didn't say how. (Did you know the NYPD's budget is $6 billion while the NYC Department of Health has a budget of $1.6 billion?) LA's mayor Eric Garcetti said he would take $150 million from the LAPD's budget and funnel it toward community initiatives. Brands and media organizations publicly supported Black Lives Matter and anti-racism, only to be called out for poor treatment and pay inequity by people of color who currently or formerly worked there. CEOs dropped like flies, and so did the New York Times' opinion editor. All of this was such a welcome sight in the face of 400 years of oppression.
And yet, Breonna Taylor's killers have yet to be arrested. Eric Garner and Tamir Rice and Trayvon Martin and Michael Brown and Sandra Bland did not see justice. The names of the innocent Black people killed by police who will never see justice make a long and shameful list.
I stepped back into Manhattan for the first time since March 13 with today's massive
#BlackLivesMatter
protest. When we walked off the Brooklyn Bridge, the protestors just kept coming and coming, even when it started pouring down rain. It was an honor to show up for and with my community today, and demand justice for George, Breonna, Ahmaud, and so many others. No justice? No peace.
#saytheirnames
---
I am Latina and a first-generation American. But I grew up wealthy and with a skin color and last name that gave me great privilege and protected me from most if not all systemic racism I would have otherwise faced. When it comes to being anti-racist, I've had my own failures. I've made mistakes at work, in my personal life, and in social situations. I'm a gentrifier. I've let things go when I shouldn't have. I've been ignorant. I'm sure I will again. Being anti-racist is not about being perfect; it's about doing what you have the power to do every day within yourself and your community to enact real change.
A friend reminded me that listening to those outside of your own experience, examining your own biases, and having these tough conversations should and will be uncomfortable and even painful. Facing our pasts with honesty and ownership is the only way to build a more inclusive and equal future.
So, how can I be better? Where can I do more? These are some of the answers.
What I am doing to be anti-racist today:
Listening up. I commit to following and uplifting black voices. I will amplify black voices on the public platforms that I have, including this newsletter. Moving forward, at least half of the voices I speak to or feature essays from in Cruel Summer Book Club will be those of non-white, non-straight people.

Reading up. I commit to educating myself on issues that are vital to anti-racism. I read books by a lot of women authors, but I don't read enough women authors of color. This week I'm reading Me and White Supremacy by Layla F. Saad, a must-follow on Instagram. I also joined Catherine Andrews' pop-up book club, where I'll be discussing the book with others weekly. Next, I'll read All About Love by bell hooks. Then, Between the World and Me by Ta-Nehisi Coates.

Paying up. I donated to the Brooklyn Community Bail Fund and the Homeless Black Trans Women fund. Before I got laid off, I donated monthly to Planned Parenthood and the ACLU. I commit to reexamining my current budget and setting up a recurring donation to an anti-racist organization.

Speaking up. I will have the hard conversations with my white friends and family members. I sent an email to my family this week with relevant links about current issues to help them find information from trustworthy media sources, and let them know I am always here to talk with an open heart and open mind about any issues they're concerned about or want to learn more about. (If you'd like to see it so you can use it as a template, email me.) I will not let racist statements or jokes go for the sake of white people's comfort. I will educate myself so I can speak up to and argue with white people more effectively.

Showing up. I will show up at anti-racist protests and events, and not just this week. I will research organizations I can get involved in in my own neighborhood, and become an active participant. I will support my Black friends and colleagues in their endeavors, financially and otherwise. In future corporate environments, I will work to take the onus of education and diversity efforts off of people of color's shoulders. I will vote for anti-racist candidates and policies.
What you can do to be anti-racist today:
---
If you liked this newsletter, please subscribe and share:
Follow me on:
You are not alone!