Discover more from Cruel Summer Book Club
A newsletter (and podcast) exploring change and living well. By Jillian Anthony
Over 1,000 subscribers
Samantha Stallard called off her wedding
Read about the 72 hours it took to turn her entire life upside down
I met Samantha Stallard—director of marketing and business development of Concierge.com, by Condé Nast and Diane Keaton's style doppleganger—through a mutual friend in New York City six years ago, and we've been BFFs ever since. I was set to be the maid of honor in her October wedding, until she abruptly called it off in May. Two weeks later, my own breakup happened. Read her essay on the 72 hours it took to turn her entire life upside down, followed by a candid heart-to-heart between us about what it's been like supporting each other through heartache and change.
---
I called off my wedding, put all of my belongings in storage, broke my lease, wrote myself a check for my entire life's savings, and drove from the Upper West Side of Manhattan to my parent's home in suburban Atlanta—all in 72 hours. 
When my fiancé and I ended our four-year relationship, all he could say to me, through his shock and denial, was "How can you throw this all away so fast?"
This response triggered a true belly laugh within me—not because what he said was funny at all, but because, for me, it hadn't happened so fast. Our breakup had been slow, steady, and as predictable as MTA weekend service changes.
We stopped waking up on Saturday mornings to cook breakfast together and watch old episodes of The Sopranos. We stopped going on hours-long walks through our neighborhood to window shop and decorate our hypothetical retirement home in Santa Barbara. We stopped closing restaurants taking turns retelling each other the story of how we fell in love. We stopped listening to each other. We stopped supporting each other. We stopped.
It all came crashing down in May, five months before our wedding. My mom later told me that she had come to dread my calls. Seeing my name on her phone meant that she would have to talk me—her crying, 30-year-old daughter—off the ledge, again, while I choked for breath in between sobs, exclaiming, "I don't know what to do, I don't know what to do..."
The truth is, I did know what to do. I had known for months. That's bullshit—I had known for a year. But admitting that would mean that I already knew my relationship was irreparable when he got down on one knee in Santorini, when I said yes, when I posted our smiling engagement photo to Instagram, and in the months I spent planning a wedding that shouldn't happen. 
"Things will get better before next October. We have time," I lied to myself as I tried on wedding dresses and booked the band. 
Unfortunately, knowing what to do and how to do it are completely different beasts. I wasn't ready to endure the discomfort, pain, heartbreak, financial loss, confusion, and embarrassment our breakup would cause. But, all the while, I fantasized about what my life could look like when it was completely my own again. I could live closer to my friends, get floral bedding, and watch Bravo without enduring groans of displeasure.
In January, I started writing the Breakup To Do List on a note in my phone: A checklist of everything I'd need to do when I eventually left him, from, "change Spotify password" to "research storage units in Brooklyn." For months (five months!), adding to that list was cathartic, until that seemingly uneventful day in May when I decided I had had enough self-doubt, anxiety, and instability for a lifetime, thank you, and ended it. I came home from work and encountered the same dysfunctional living situation we'd been in for months, but this time, something clicked. I thought to myself, "This isn't a phase anymore. This is your life."
So, while I did swiftly end my engagement and get the hell out of town in just three days, my breakup took more like a year and three days. If you're feeling trapped and unhappy too, know that clarity will come. You will make the hard decision and you will keep breathing through the worst days. Take all the time you need to get there, even if it's a year.
---
Just between us girls
Jillian Anthony: I was sitting in a cafe with my now ex-boyfriend outside of the Louvre in Paris when I got your text that you had ended your relationship.
Samantha Stallard: That's right. And I did not intend on telling you until you came back because I did not want to be a source of negativity on your romantic European vacation, and it was actually our friend Shadi who was like, That's stupid, text her.
I was so glad you did. I talked to you in the hotel that night for like an hour. When I got that text I was shocked because even though you've told me how much you've been struggling, I didn't think you were going to leave.
I think that I had been going back and forth for months, if not a year, wondering what it would require for me to completely uproot my entire life and leave this person who was also my roommate and financial partner and co-caretaker of our dog. The only way that I could do it was to start introducing people into the darkness that was going on behind the scenes. I knew people would see how bad it was and say, You can't stay. The act of leaving is the hardest part. Once it's over you're still collecting yourself, but that three-day period when a relationship is actively falling apart is hell. To actually make the decision was incredible. It was the best feeling to do the hard thing and to survive it.
We all understand that you did the hard thing. The easy thing would have been to get married in October.
Oh yeah, and that's what everyone has said to me: "You don't know the amount of people who would have just stayed." I don't know when I'll be able to handle wedding content and not be completely broken by it. A woman from the wedding dress shop was incessantly texting me to come pick up my dress and I was ignoring it because it was too hard, and one day I just sent a very frank text back: Hey there, called off the wedding, stop texting me. I had some very blunt discussions with all the vendors we had hired for the wedding and I desperately was like, Can I have my deposit back? And they were basically like, Lol no. Try throwing a fifty thousand-dollar party and then cancelling it. Good luck to you. It is truly comical and it is getting funnier, but yeah, weddings are still very dark to me.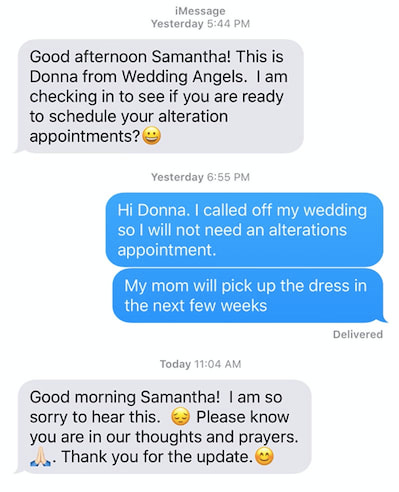 Very understandable. What has your grief and recovery been like in the two months you've been back home in Atlanta?
It's been a very emotional time but I am largely doing better than I thought. I imagined a life-changing breakup at 30 and I think the storyline I would tell myself in my head about what that would feel like was actually a lot worse than what living it has been. You can't be in a bad relationship. No one should be.
Right, getting to say that you're married isn't worth it.
Exactly. What you have said to me, and I have repeated to myself and anyone within earshot, is, "Marriage is not an accomplishment."
I guess we should mention that I was to be your maid of honor.
Yes, thank you for your duties. You did the hardest part about being a maid of honor, which is planning the bachelorette party [on Fire Island].
Which we are going to on Thursday.
Yes, thank god. A question I want to ask you is, were you questioning my relationship and did you think that getting married was a bad idea?
Yes. I was so worried for you. I had tried to talk to you several times, but you had made your choice and at that point I felt I could only support you. I felt like he was so absent from your life. 
He was not interested in being a part of my life and interestingly part of me really was okay with that. Not to blame him for this, but he does have very intense social anxiety, and so I found his presence incredibly stressful and more work for me to make sure he was okay. If someone's issues are bigger than your own in your life, that's a very big red flag. I would say to my mom, "I don't get to have good days and bad days. Simon* has good days and bad days and that dictates how I'm going to feel." To have my emotions be controlled by my actions now is beyond freeing. But he got so dependent on me for everything. I became his caretaker and his enabler. 
When you came home from a week in Greece after you got engaged [in May 2018], I could tell you weren't happy. I was like, "How was your week?" and you immediately told me it was terrible.
That trip to Greece was the worst week of my life. I was alone for seventy-five percent of it. The day after we got engaged we were getting ready to go to dinner and he just said, "I don't want to," and went and got back in bed. So I took myself out to dinner in Santorini, and it was like, Wow this sucks. I should be so happy right now. And I said that to myself throughout the entire wedding process: "I should be so happy right now and I am not. But I'm going to keep chugging forward because this is just a phase and everything's going to get better." And that's what I struggled with for so long: Is this still temporary or is this my life now?
You are doing so well. You have been such a pillar of strength for me. We're supporting each other, but I know you're supporting me more because I'm not doing as well as you are. 
Supporting you is very, very helpful to me. I hate the way this sounds, but I'm very grateful to be going through this with you. If this had to happen, I'm very glad it happened to both of us at the same time. I know, like me, you are very close to your mom, so how has she been there for you?
I just love and appreciate my mom more every day of my life. I'm working remote this week in my parents' Las Vegas retirement home with my mom and my godmother Nancy. They've been best friends since they were 14 years old. Listening to them talk about how much they've survived, and their wisdom, it's just like, you have to be here in this moment. You can't wish away this pain, but you can work on it and get through it. I've been reading all these woo-woo books, and so have you.
Heal me, Tony Robbins.
The pain is a gift. As much as I want to be rid of it right this fucking second, I'm feeling this way because I loved someone so much.
The difference between our relationships was yours was—air quotes—happy, and that's why it was almost more traumatizing for you, I would say.
For sure. Whereas you've done a year of picking through these feelings, I had done zero healing because day-to-day I was still happy with him. What you've said to me is my relationship actually wasn't good because I had a partner who couldn't speak to me about important things and was not committed to me. And I need those things.
What is the biggest lesson that this breakup has taught you where you stand today?
The second the relationship ended, the strongest feeling I had was, I love myself and I deserve more than this. I've never had that voice so strongly present. What do you think your biggest lesson so far has been?
To not ignore the signs and voices in your head that are saying, "This is bad," just because you are afraid of going through something hard. After difficult is a life even better than what you had before. What do you want for yourself now, in this moment?
Acceptance. I'm working on it.
Well, you're doing a good job. I have had a harder time letting go of what could have been than what was. And I am still clinging to the false narrative that he and I put in each other's heads about what our life would look like together. We weren't going to stay in New York for three more years and then look at places in Connecticut, and we weren't going to save a bunch of money to buy a beach house in Florida, and we weren't going to travel the world together and retire in Santa Barbara and have a boy and a girl two years apart. Those things were not reality. They were just ideas. The thing is, for the most part, I am so optimistic and excited for what comes next. I am so fucking excited to fall in love again. 
*Name has been changed to protect the sort-of innocent.
If you liked this newsletter, please subscribe and share:
Follow me on:
You are not alone!