Discover more from Cruel Summer Book Club
A newsletter (and podcast) exploring change and living well. By Jillian Anthony
Over 1,000 subscribers
Cruel compendium #16 💨
Surviving the fires, screaming inside my heart, and hanging out with skeletons
On Tuesday I wrote about the start of my road trip, and almost a full day spent driving through smoke. I'm now on day 11 of gray skies here in Seattle. Stay safe, everyone.
---
I'm reading
A father's heartbreaking attempt to save his family from a raging fire by Capi Lynn. At least 35 people have died in the West Coast wildfires. Much of the country is shrouded in the smoke. Dozens of fires continue to burn. I'm feeling so much for the hundreds of thousands affected by these fires, and for our ravaged earth.
On witness and respair: A personal tragedy followed by pandemic by Jesmyn Ward. Ward explores the deep grief of losing her husband, followed by the pandemic, followed by more police brutality.
When it's time for something to end by Jett Allen. A comics exploration of the Death card in tarot.
The real heroes are dead by James B. Stewart. A 2002 story about the life and death of Rick Rescorla, who died on 9/11.
Breaking up is hard to do by Amy Blair at her newsletter about divorce, The D-List. Forever reminder: leave your bad relationship. There's so much more for you on the other side.
I might not want to get married, ever by Maeve Ginsberg
To be clear, I'm not above or "over" relationships. Not at all. But the heavy weight of endlessly expecting them does not serve me. It only confuses me, causes a lot of anxiety and disappointment, and still ends with me being alone. The way I see it, I can be alone and frustrated by the burden of this expectation, or I can be alone and fulfilled, free of the expectation.
Mother of Tamir Rice says moving on has been painful by Nicquel Terry Ellis. Samaria Rice's resilience and activism is inspiring. But she should have never had to create a life without her son.
Model Emily Ratajkowski writes about buying back her own images, a sexual assault, and the darkness of the modeling world. A captivating read every woman will relate to.
My friend Jennifer Picht's new newsletter, What's in the Cards?, launched today! It's a lovely combination of storytelling and tarot—she'll speak to interesting people and do a three-card reading for them. The inaugural interview is with yours truly, and we talk all about CSBC and healing from grief. Check it out and subscribe!
---
Questionable self-care advice
September, with its crisp air and back-to-school vibes, is a big month for resetting. I've seen plenty of articles on how to achieve this (here's a daily house-cleaning guide from Apartment Therapy from 2019 to get your space in order), but personally I'm using the time to check in with what my current values and goals are. My life for the next ten weeks will look completely different than it ever has before, and my priorities should reflect those big changes. Perhaps this is a good time to check in with yourself too. Check out some tools I shared for realigning in a previous newsletter.
Also, something that's really been working for me is unsubscribing to things aggressively. (But don't unsubscribe to this newsletter, obviously.)
---
Support I got that you might need to hear
September is Suicide Awareness Month and just wanted to pop on here and remind you of the above. Though it's not something I've dealt with personally, suicide prevention is a cause very near to my heart as mental illness has claimed the lives of one too many friends and peers of mine. If you're struggling, there is hope and lots of help out there and things can and will get lighter and brighter if you hold on. Tagging a few of my favorite resources 🤍 PS art by Matisse
I think it's especially important, in these times we're living in, to find the things that bring you joy and make them your highest priority. No compromises.
---
Vision board
---
You should know about
This woman who found out her ex-husband cheated on her from a New York Times vows column 😱

California prisoners have been a huge part of the state's firefighting efforts for decades. They make, on average, $3.63 per day, and an extra dollar per day when they are on active fires. Three of them have died since 2017. And up until now, most of these highly trained inmates faced significant roadblocks to becoming firefighters because of their felony records. This week, California Governor Gavin Newsom signed a new law making it easier for inmate firefighters to have their records expunged to pursue firefighting careers. The state desperately needs help, especially after thousands of prisoners were released early due to Covid concerns—600 of these were in the fire camp programs. Currently, over 1,000 inmates are out there fighting fires. I'm so happy to hear that the inmates risking their lives to protect ours will now have better opportunities in the future.

The realities of sex you don't see in porn:

NSFW! It's important to highlight the difference between the sex you see on screen and the sex we all have in our daily lives. 👇

This artwork by community member

@hazel.mead

is "a celebration of how 3 dimensional s*x is - it's awkward, funny, emotional, can be the best thing, can be traumatic, insert all the adjectives here. It's also a nod to our wonderful varied bodies." 🙌

#iweigh

#sexhealth

#sexeducation

#safesex
---
Internet obsessions
Eliza Morey, the meatier/meteor Tik Tok legend, is a paralegal who volunteers at the Natural History of Utah's paleontology department, has an acting background, and has been fighting breast cancer since she was 19. Her virality helped her pay off some of her large medical bills (her Cash App is $ElizaMorey). I'm simply and utterly in love with her. (h/t Buzzfeed)
Forever screaming inside my heart. (h/t the wonderful Daily Respite newsletter)
We can always count on Lady Gaga to keep making art!
---
Minerva moment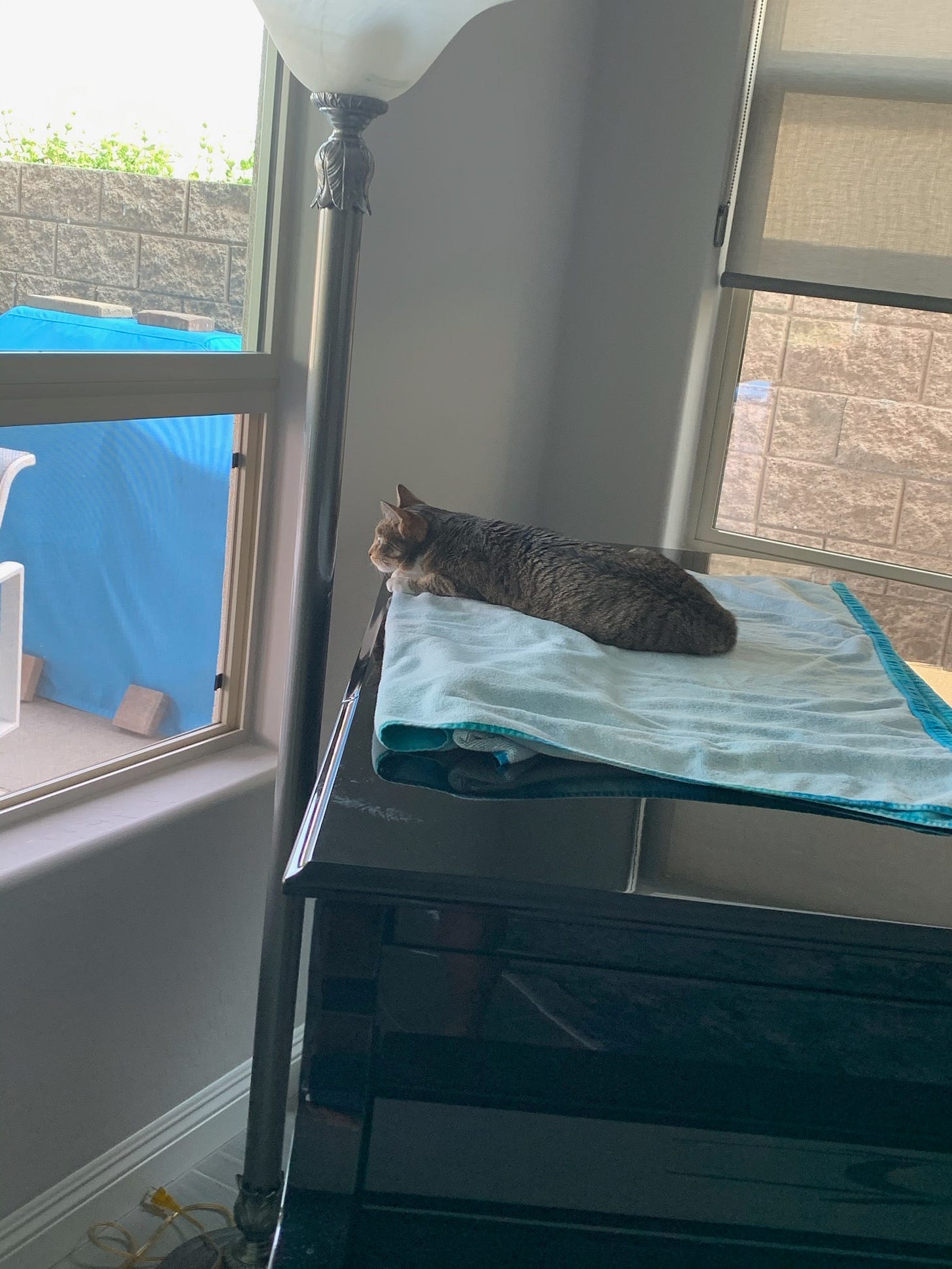 Minerva loves nothing more than to lounge on the piano in Las Vegas and watch the birds. My dad is having the TIME OF HIS LIFE hanging out with her.
---
Anthem
"Good Vibes" by HRVY, Matoma. I need upbeat bops ONLY in my life right now.
CSBC playlist:
What is your favorite full album of all time? Tell me in the comments—I'm compiling a playlist for long drives ahead.
---
This cheered me up
"Wild Geese" by Mary Oliver (h/t Brain Pickings)
You do not have to be good.
You do not have to walk on your knees
For a hundred miles through the desert, repenting.
You only have to let the soft animal of your body
love what it loves.
Tell me about despair, yours, and I will tell you mine.
Meanwhile the world goes on.
Meanwhile the sun and the clear pebbles of the rain
are moving across the landscapes,
over the prairies and the deep trees,
the mountains and the rivers.
Meanwhile the wild geese, high in the clean blue air,
are heading home again.
Whoever you are, no matter how lonely,
the world offers itself to your imagination,
calls to you like the wild geese, harsh and exciting —
over and over announcing your place
in the family of things.
---
Mood
---
Cruel Summer Book Club is staying inside until the smoke clears. Join me by subscribing and sharing this newsletter with friends.
Follow me on:
You are not alone!