Discover more from Cruel Summer Book Club
A newsletter (and podcast) exploring change and living well. By Jillian Anthony
Over 1,000 subscribers
The current countdowns keeping me going:
-12 hours till I see my sister
-7 days till I see my cat
-7 days till Gaga releases Chromatica
-12 days till I fly home to New York
-13 days till I'm reunited with the swans I stalk in Prospect Park. Can't wait to meet the new babies!
---
I'm reading
This amazing New York Times package: 14 writers on the small things that brought them joy during the pandemic
My therapist says feelings aren't facts by Ashley C. Ford on Medium. Feelings! Are! Not! Facts!
A simple concept, and it hit me like a speeding truck. My feelings are trying to tell me something about me, and even when they are overwhelming, they can't replace who I am. I feel angry, I am not anger. I feel afraid. I am not my fear either. My anger doesn't mean I'm right, and my fear doesn't mean I'm in danger. All this time, I thought feeling bad made me bad.
My first year sober by Edith Zimmerman at Spiralbound. Edith's comics, so vulnerable and sometimes written as stream-of-consciousness, have been some of my favorite discoveries this year. I especially love this one from 2018, where she writes about the tough experiences that brought her to sobriety, her fear of a boring life without alcohol, and finding so much joy and passion on the other side. She recently had her four year sober anniversary! She wrote about it—and how much better her sober life continues to be—at her wonderful newsletter, Drawing Links.
It's okay to be okay during the pandemic by Sigal Samuel at Vox. When something physically or emotionally painful happens, we all experience "the first arrow" of that perfectly natural pain. But what really hurts is the second arrow we shoot into ourselves, or the story we build around that experience: shame, anger, guilt, rumination. (I'm a shame person, which are you?) If we can consciously confront our pain for what it is and treat ourselves with self-compassion, we can avoid further suffering.
Nick Cave answers a reader's question about finding peace after the loss of a child:
In the end, grief is an entirety. It is doing the dishes, watching Netflix, reading a book, Zooming friends, sitting alone or, indeed, shifting furniture around. Grief is all things reimagined through the ever emerging wounds of the world. It revealed to us that we had no control over events, and as we confronted our powerlessness, we came to see this powerlessness as a kind of spiritual freedom.
I'm listening to:
Monica and Jess Love Boys on the Armchair Expert podcast. I was surprised to find how much I love Dax Shephard's podcast, but I really love the spinoff episodes of Monica and Jess Love Boys. Monica is a 32-year-old straight women who's never had a boyfriend, and Jess is a 43-year-old gay man who's constantly having sex. Over ten episodes they explore their various issues with people like Esther Perel and Dr. Drew, and give each other challenges to complete. It's fascinating, and no matter what your personal hangups are, these episodes will give you something to think about.
Unlocking Us with Brene Brown: Dr. Marc Brackett on "permission to feel." I really enjoyed this conversation on emotional literacy—we can all get better at it, and once we do, most areas of our lives will improve, too.
---
Questionable self-care advice
Plus this message from me to me:
That's just on period for me.
---
Support I got that you might need to hear
Perennial reminder:
Even if you feel healthy, safe, and okay, it can still feel excruciating to know that so many of us, collectively, are suffering. Today, take nice long deep breaths, and pray (in whatever way resonates with you) for the human collective. May we all find the strength to support and advocate for each other. That is how we heal together.
---
I enthusiastically endorse
Ben Platt's Radio City concert. I was there. I wept, and I shall weep again when I watch it on Netflix.
#1000wordsofsummer! For writers of all kinds, author Jami Attenberg's annual exercise to write 1000 words a day for two weeks is about to begin on May 29. Subscribe to her newsletter to get daily encouragement from herself and other writers, and to be part of a fun community on Twitter. Last year, I used #1000wordsofsummer to start CSBC. Use it to write whatever you want, whether it's your novel or your journal.
Astrology readings by Julia Bray. I've known Julia for years, back when she was producing an incredible live show in her Brooklyn apartment, one I once wrote and performed in. She gave me a one-on-one astrology reading over Skype back in October, and it healed me. She will lift your heart and show you how your strengths and weaknesses are all a glowing part of who you are. Plus, I love to watch her dance and practice yoga on her Instagram stories.
🖤🍃we think you're doing a great job right in this very moment because you are you, right in this very moment 🖤🍃
This Tik Tok:
---
Minerva moment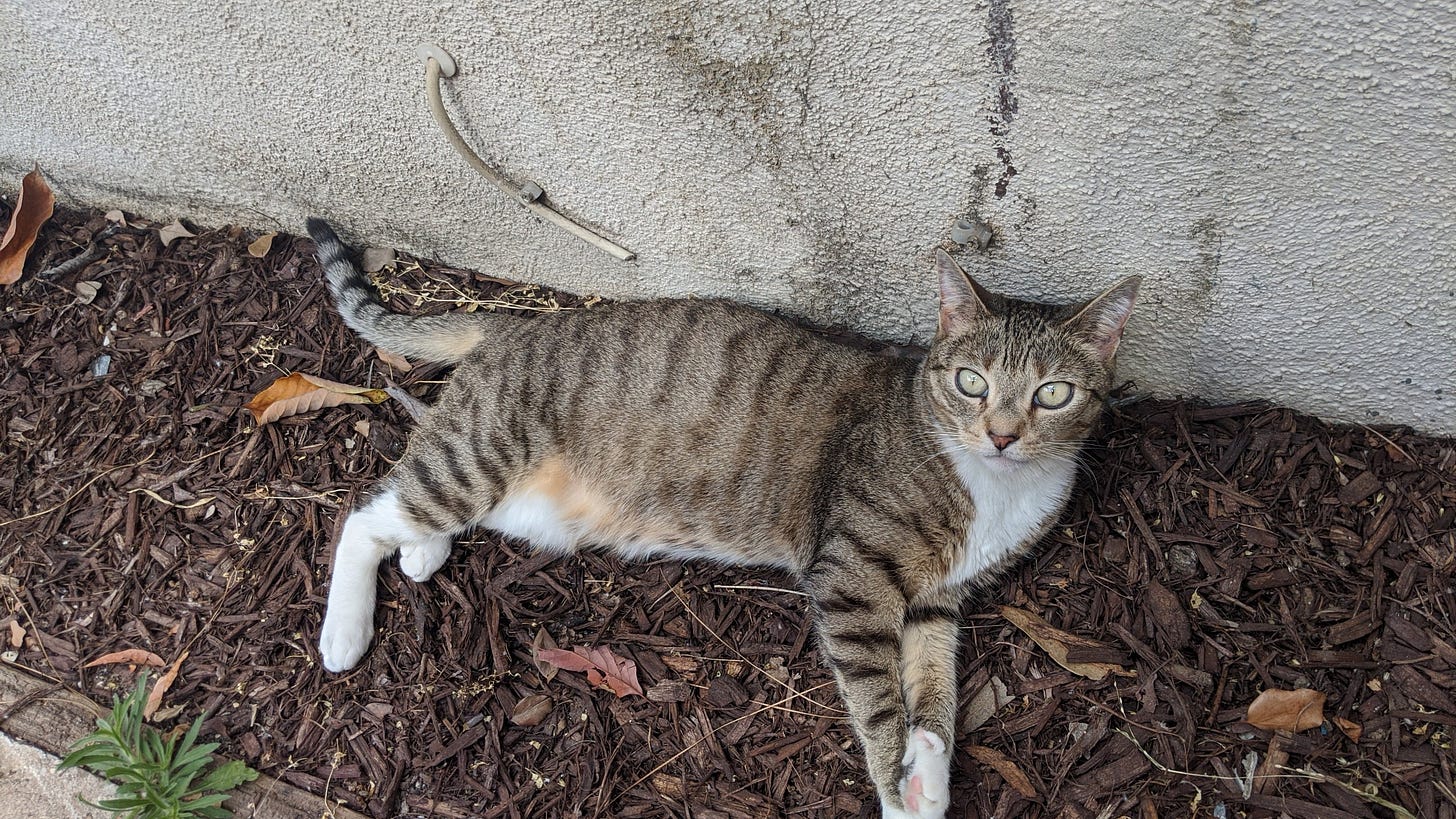 Enjoying the great outdoors of my sister's backyard
---
Anthem of the week
"Summer Love" by Carly Rae Jepson, our Quarantine Bops Queen! ICYMI, she released Dedicated Side B this week.
---
This cheered me up
Thirty-eight days after I first applied for unemployment, the Department of Labor emailed me to let me know my claim can now be paid!!! I never did speak to a human being on the phone. And I still have a lot of unanswered questions. But hopefully by this time next week, a payment will hit my bank account. Sending strength to the millions of other people dealing with the stress and mess of the unemployment process.
---
Mood
---
If you liked this newsletter, please subscribe and share!
Follow me on:
You are not alone!
---
Cruel compliments
Thanks for the shoutout in the Freelance Pod newsletter, Suchandrika! She previously shared an essay here on CSBC.
-Really enjoyed this interview with social media attorney Ethan Wall, by Jillian Anthony, for her newsletter Cruel Summer Book Club:
I was really emotionless in a way. I experience mental health issues just like everybody else. Mine is really having narcissistic tendencies. I've always been incredibly independent and competitive, and as a result of that I had a very inflated ego, and that carried on in life and in relationships. I really craved achievement, and as part of that my social media was also like, hey, look at all the wonderful things in my life. People would tell me that I was always on or I was putting on a show and I'd feel so insulted by that. The reason was I was disconnected with my emotions.