Discover more from Cruel Summer Book Club
A newsletter (and podcast) exploring change and living well. By Jillian Anthony
Over 1,000 subscribers
Jayson Greene wrote a memoir after the death of his two-year-old daughter
Once More We Saw Stars is shattering, and hopeful
Two-year-old Greta was sitting on a bench on the Upper West Side when a piece of windowsill broke off and fell from eight floors above, killing her. Greta's parents—Jayson Greene, who was an editor at Pitchfork at the time, and his wife, Stacy, a lactation consultant—then had to learn to live alongside some of the deepest grief imaginable. Out of Jayson's loss came his first book, Once More We Saw Stars, a shattering memoir chronicling Greta's life, death, and an entire family's reckoning with a disturbing new reality. (Read more of my thoughts on the book here.) Below, read an excerpt from the memoir, when Jayson goes on a run in the park and his grief seems to defy dimensions to keep Greta close to him. Then read a conversation between Jayson and I about what remains and changes after loss, the books that helped him mourn, and lightning bolts of hope.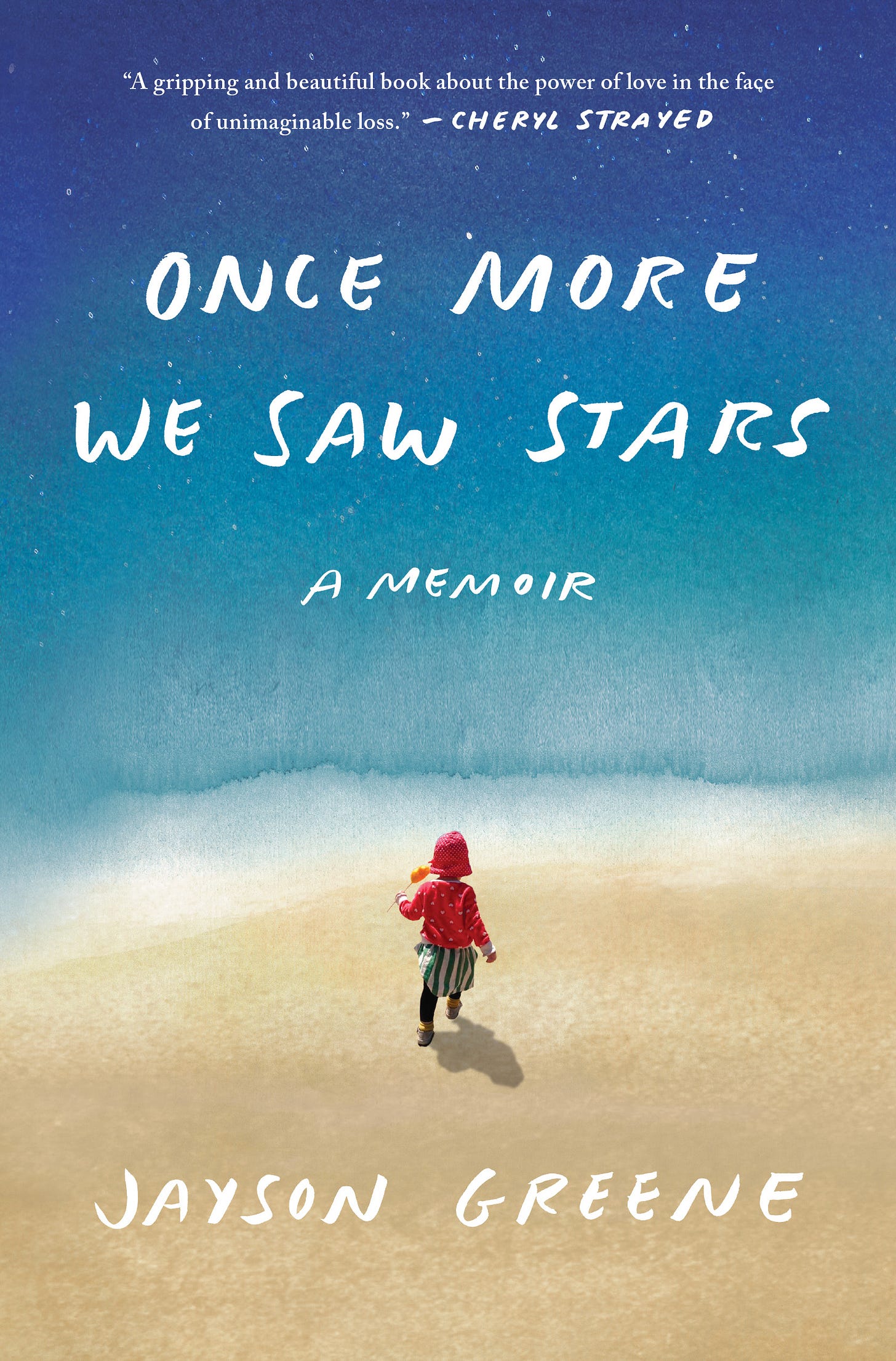 ---
Excerpt from
Once More We Saw Stars
There at the park's mouth, my heart stirs, and I feel a peculiar elation. I recognize her. Greta is somewhere nearby. I feel her energy, playfully expectant. Come find me, Daddy, she says. Tears spring and run freely down my face. I hear you, baby girl, I whisper. Daddy's coming to get you.
Elated, I enter the park and immediately spot her; she is waiting for me, hiding behind the big tree in the clearing between the Vanderbilt playground and the duck pond. She appears from behind the tree with a flourish, giggling, just like in our old game: she would run out into the hallway from the bedroom where we had been playing, either naked or in her diaper, and cast me an impish look, asking, "Where's Greta?" I would feign great perplexity, turning over small toys on the floor to see if she was under them, peeking behind the couch, clutching my head in mock terror. "Oh no, what have we done?" I would moan. "We've lost her!" She would laugh, run back in, and announce, "Greta came right back!"
Standing in the park, staring at her, I make a strange and primal sound, deep and rich like a belly laugh, hard and sharp like a sob. You are here. You picked the right park. Good choice, baby girl. Oblivious to the people around me, I run to her. She wiggles in anticipatory joy. Stooping down, I scoop her up under her soft armpits, her shoulder blades meeting at the pads of my fingers, and I lift her up into the sky. She is invisible to passersby—to them, there is nothing in the spot next to the tree where she stands laughing and clapping but a patch of grass, and there is nothing in my arms but air. But she is not here for them; she is here for me.
She gazes down at me, her smile that turned crooked at the bottom like mine crumpling her wide-open face. I bend my arms and lower her face down to mine and kiss her, slowly. Then I set her back down in the grass.
You stay here, OK? I say. Daddy's going for a run, OK, sweetie pie?
Oh yeah, OK! she says back.
I turn around and begin running hard along the perimeter of the pond, where we had dipped her hand in the water, splashing and saying, "Here we go, ducks! Here we go!" As I pump my limbs, my hamstrings groan and then open; my body awakens. The playground recedes behind me, where I had pushed her on the swing while she sang, "Poopy, poopy, poopy poopy," to the tune of "Twinkle, Twinkle, Little Star" at the top of her lungs. "If my kid's saying 'poopy' tonight," the mother next to me deadpanned, "I'll know where he picked it up."
As my chest swells like a bellows, I feel her presence filling up my heart, and with it comes a strange exhilaration that I have felt often in the weeks after her death. Grief at its peak has a terrible beauty to it, a blinding fission of every emotion. The world is charged with significance, with meaning, and the world around you, normally so solid and implacable, suddenly looks thin, translucent. I feel like I've discovered an opening. I don't know quite what's behind it yet. But it is there. I open up into a sprint, liberated.
I am treading ether, a new and unfamiliar kind of contact high. I have been raised secular by my parents, and I've never set foot in a church for more than an hour. But I will do anything for Greta, I am learning. And that includes becoming a mystic, so that I might still enjoy her company.
When I reach the edge of the park again, I stop and feel a torrent of words flood me. I grope for my phone, blindly choosing the most recent document, a mess of to-dos and grocery lists. Underneath a reminder to pick up pita and above a confirmation number for a UPS delivery, I write, "There will be more light upon this earth for me."
Excerpted from ONCE MORE WE SAW STARS by Jayson Greene. Copyright © 2019 by Jayson Greene. Published by arrangement with Alfred A. Knopf, an imprint of The Knopf Doubleday Publishing Group, a division of Penguin Random House LLC
---
We need to talk
Jillian Anthony: It's been four years now since Greta's death. Could you walk me through the various stages of grief you've been through?
Jayson Greene: All of them. They have that roadmap of the stages of grief—denial, anger, bargaining, depression, acceptance—and they kind of look like they're a how-to, but it doesn't happen that way. They were never meant as a linear process. Everyone sees acceptance at the end and thinks, Oh wow, maybe if I get through all this painful stuff I'll get to acceptance; it almost seems like it's the end of the board game. Acceptance is a place you visit every once in a while just like everything else. There are days that I'm at peace with what happened to Greta and where we're at in our lives, and then there are days when I'm angry again. I think the only thing that's been helpful is to know that those are the natural human responses, and just be able to say, "Okay, clearly I'm having this kind of day today." We're within the first five years [of grief] and some people consider that to be "fresh." But if you're asking where am I now, today, I think that we're mostly peaceful on a day-to-day basis. We have a lot of things going on in our lives and a growing son, so those things certainly keep you focused on the better parts of life.
I'm so glad to hear that. Have you learned to be better at just accepting [your emotions]?
I am better at recognizing that's what's happening and not being bewildered by it. Sometimes life is happening and I don't really want to be or don't have the luxury of being depressed all day. It's also so nefarious because sometimes you will expect to be overwhelmed with sadness by some landmark that seems like it would be significant, and then it doesn't mean anything at all, and then something else seemingly tiny sets you off. The subconscious is a mysterious place. 
You and Stacy both went back to work two weeks after Greta passed away. How did you work and edit music reviews and answer emails? Were you just on autopilot?
When you're in shock almost anything seems reasonable. The world has been turned upside down. Nothing makes sense anymore, so any activity seems to make as much sense as any other activity. Living makes as much sense as dying, eating makes as much sense as not eating, going to work makes as much sense as not going to work. I went to work because I needed something to do with my hands and my brain. There was a practicality to it too, just to get ourselves out of the goddamn apartment. There's something so nice about being distracted by problems that have much lower stakes than the ones you're facing in your life.
What do you wish people knew about grief?
What meant the most to me was that people were present and that they showed up. Don't worry about saying the wrong thing because you also can't say the right thing. Nothing you have to offer to this grieving person is going to make their load any lighter, so just sit down and listen and be there, and also take your cue from that person. If that person seems like they really want to talk about their dead loved one, don't try and change the subject. They know what they need better than you do.
[In the book] you write about specific New York City things, like the media and neighborhoods. At one point you write "the city killed her," but then a few days later you don't feel that way anymore. You also talk about screaming outloud alone on New York City streets. How did this experience affect your relationship to the city?
I think that was my traumatized brain looking for cause and effect. If there was a cause and effect, even if it meant that I was at fault, it would mean that things had meaning. I gradually realized the universe can be completely random. This just happened. Death comes to all corners of the world. So in the height of my trauma, yes, there were moments when I was scared of buildings. I ironically wouldn't pass under sidewalk sheds, and that makes no sense because those protect you. And I would look up and see all these air conditioners in the windows that looked like they weren't properly installed, and I had all these nightmares about stuff like that. But I didn't start to think that New York itself in particular was a more dangerous place. I thought the world was a more dangerous and random place than I had assumed. I think we did have a moment if we wondered if this was going to make us leave the city, but the truth was neither of us for a moment really wanted to leave. All of our dear friends and pretty much all of Stacy's family live here, so why would we leave?
I think one of my favorite passages is when you write about going for a run and you see Greta, and you have this amazing moment and say, "There will be more light upon this earth for me." How long passed between Greta's death and that moment?
Mm, 8, 10 days maybe?
Oh wow, okay. That's much shorter than I assumed.
It was a very weird hallucinatory moment that was very early on in the grief process. It was very within the shock window. It was kind of like an ecstatic vision-type experience. It was the first time I saw Greta after her death, so it had some profound significance for me. ["There will be more light upon this earth for me" is] probably what she came to tell me.
That's a pretty incredible lightning bolt moment of hope for you.
Lightning bolt is a good way to describe it. It felt more like defiance and determination than hope. Hope came a lot later. Pretty much immediately after writing that and putting my phone away and walking home, I descended back into despair that I was already feeling, but it was like this lighting flash that illuminated all the darkness for just a second and then went away. 
So much of the book is about you going through the mundane, because no matter what you're going through, you have to go to the grocery store and take the subway. Has this changed the way you move day to day, or your personality?
Before Greta's death I kind of looked at death as the end, and now I don't feel the same about death at all. I don't fear death. I think that's very new. But who you are before tragedy and who you are after—a lot of you ends up remaining you. I'm still the same sort of inherent person that I was, now just with this greater sadness and understanding in my heart. There's something sort of affirming about that. I generally like who I am and I'm happy and proud that I was able to remain being me after this awful thing happened to us.
It's great to hear that you've mostly maintained who you are, and you're still in New York and you're still married. All of those things are really incredible and hopeful.
You know, I'm a creature of habit. That was the most profound realization about my personality—that even though I had this horrible thing shatter my worldview, I couldn't suddenly became a despairing person because it wasn't the way I was built or wired. I was going to have to figure out how to be that same person again. How is there going to be a hopeful, optimistic person even when that seemed to make absolutely no sense anymore?
Were there any books that specifically helped you?
Anything that treated death as something beautiful and transfiguring. When I read When Breath Becomes Air [by Paul Kalanithi] after Greta died, it was a pretty profound experience for me. It was suffused with his tenderness. A novella called Grief is the Thing with Feathers by Max Porter. When I was writing my book it was one of the only books that felt like it was truest to the sort of state of being that tragedy brings. By being sort of figurative and abstract and deeply poetic it gets so much more deeply to the root of the lived experience of trauma than any of the memoirs I read about trauma, which were much more about the literal facts and didn't always probe the surface beneath them to find out how those facts move beneath your skin, how they change the way you breathed and felt—the deeper stuff. A book called The Spare Room by an Australian writer named Helen Garner. It is technically fiction but it's based on a real-life experience she had where she cares for a dear friend who has cancer in the last few months of her life. Those were books that I thought found something horrible and beautiful in what they were talking about, and they affected me deeply.
I'm sure writing this book meant so much to you to record Greta's life and personality. How is it for you to know that it's affected so many people around the world?
Incredible. It's the closest to the spiritual feeling I felt in some of those early moments [at grief retreats] in Kripalu or New Mexico, those moments I write about in the book where I sort of sense this beautiful, larger picture. I've heard from people who have lost someone and read the book and talk to me about how their journey mirrored ours in some way. That really does feel like an out-of-body experience. It's transcendent. It's professionally nice to get reviews, but nothing has meant more than those notes from people that are so immediate and real.
More about the author: Jayson Greene is a contributing writer and former senior editor at Pitchfork. His writing has appeared in The New York Times, Grantland, and GQ, among other publications. This is his first book. He lives in Brooklyn with his wife and son.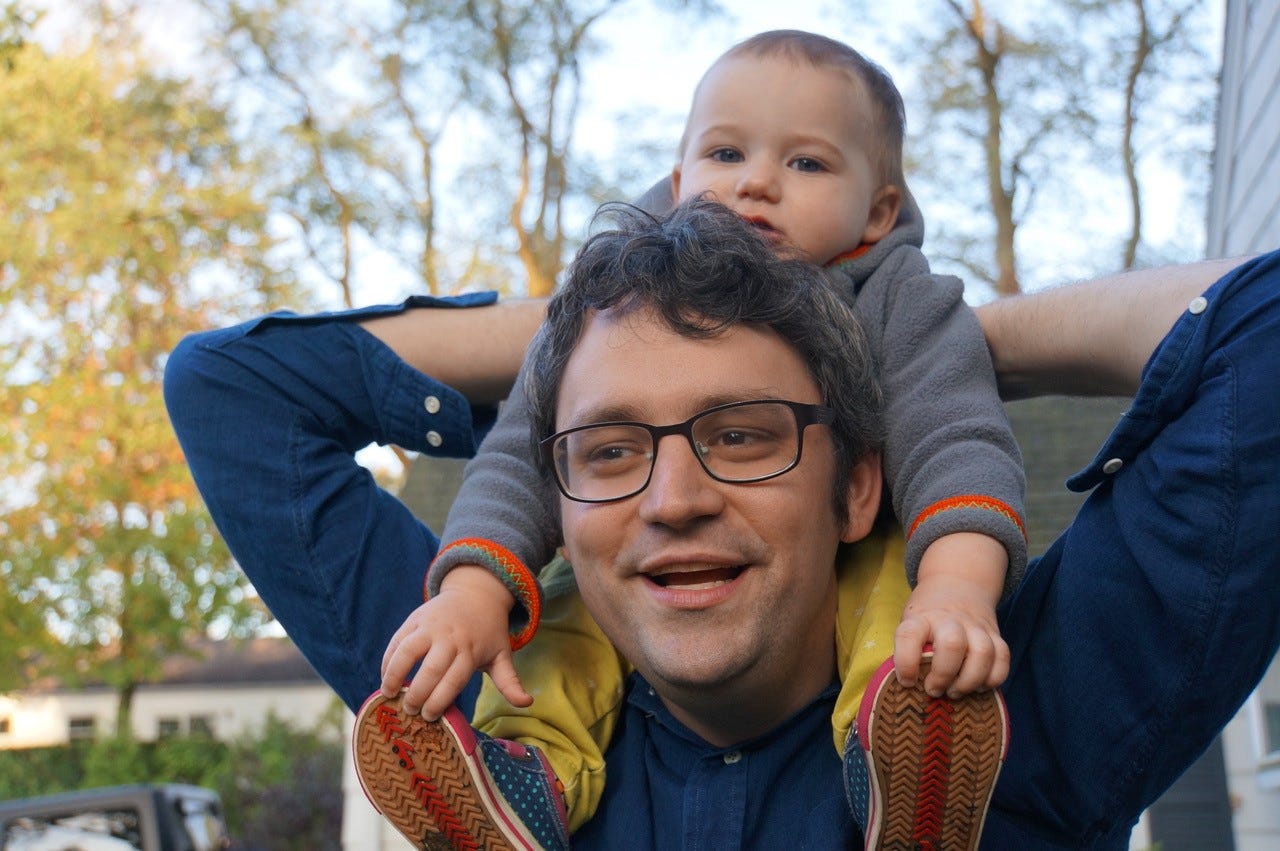 If you liked this newsletter, please share and subscribe:
Follow me on:
You are not alone!