Discover more from Cruel Summer Book Club
A newsletter (and podcast) exploring change and living well. By Jillian Anthony
Over 1,000 subscribers
Moving, and standing still
Home is where my mom is
Sob story
On Monday evening, my mother and I drove from the Los Angeles area to Las Vegas, where we'll be living for the next month or so. I had been staying with my sister and keeping away from my parents, but my dad and sister are still working, together, so mom and I were risking possible daily exposure. My mom, Jan, is particularly at risk to Covid-19 with nasty asthma and lung issues, so we decided the safest choice would be to quarantine together.
We loaded up a month's worth of food and home goods into the car and drove into the desert. We talked and listened to music and podcasts, and the sun set in a lilac haze as we drove through Taco Bell for Crunchwraps. "Moving just so we can stand still," I thought.
My mother has helped me move many times in my life. My parents dropped me off at Camp Waziyatah in Maine (THE Bug Juice camp, guys) in my 13th summer for three weeks, carting a forest green trunk with my name on it. They drove me and all of my stuff to the dorms at University of San Diego in the fall of 2006, tears in their eyes as I practically ran away from them into my new life. My senior year of college, my mom came down to Mission Beach to help me move into a shared house that I hadn't had a hand in choosing because I was abroad the semester before. I didn't like the house, or my room, and I was on the verge of tears. I'll always remember the comfort I felt when my mom said, "Well Jilly, we're going to make this a home for you." And she did.
A year later she helped me move across the country to do a graduate journalism program at Syracuse. She and my sister helped to make my room neat and organized, a family talent I didn't inherit. When I moved to New York City for good a year-and-a-half later, she walked me to the airport gate (you could still do that then, I guess?) and held me long and tight as she cried, mourning the more permanent distance between us already. Of course, she arrived a couple of weeks later to help me set up my first NYC apartment. We slept on an air mattress in my heatless room. While I went to work during the day, she ran around Bushwick buying me things like laundry carts and shelves, learning what a bodega is. She picked out a couch for me at the Salvation Army that I still have; she hired a random guy with a truck to deliver it, riding with him from Manhattan back to Brooklyn.
This time, it's my turn to help my mom move and make a home; my privilege. I'm feeling a lot during this uncertain time period, like all of you, but I'm mostly feeling immense gratitude. I am healthy and safe, and I have this unexpected opportunity to head west and spend more time with my mother in one chunk than I have in the past nine years. It feels a bit like a second January: an extended time period to reset, nest and realign with what's important. To slow down. To support my community, financially and emotionally. To love my people hard.
Tuesday night, Jan and I joined in on an hourlong digital coaching session from Reset NYC where 30 or so strangers worked through the stages of grief we're all going through right now. I got to hear my mom talk about her fears and certainties, and I got to share mine. One of the only things I am sure of in this world is how deeply I am loved by my mother, and that has been enough to sustain and heal me through some of my life's deepest lows. It felt so good to look into her eyes and tell her that.
Every night around my 10pm bedtime, my mom will poke her head into my room to say, "I'm so glad you're here with me, Jilly." When I am with my mother, I am home.
Only 11 more days until I can safely hug her again.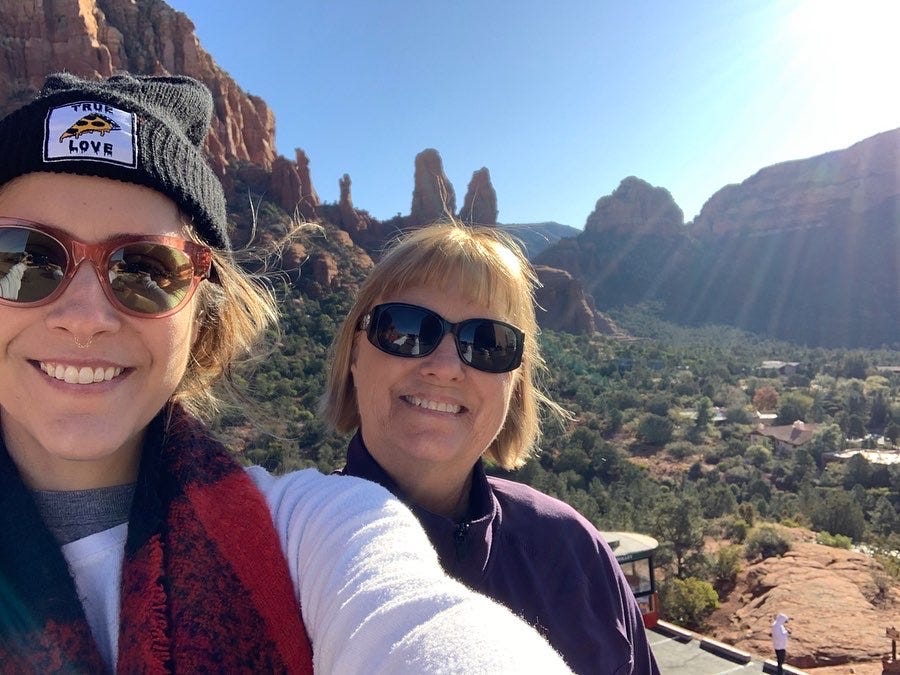 ---
I'm reading
What do we lose when we stop touching each other? by Kristen Radtke at the New York Times
That discomfort you're feeling is grief by Scott Berinato at Harvard Business Review
Addiction in isolation by Michael Rovner in the Cut
Control what you can by Katie Hawkins-Gaar in her newsletter, My Sweet Dumb Brain. Katie's words remind me of the many tough but invaluable lessons I've learned this year. "Things will always fall apart. We have no choice but to be gentle."
Wisdom stolen from a reverend by Tiffany Philippou in her newsletter, the Tiff Weekly
At 30, Abigail Bruley forgot who she was—then she became someone new by Haley Nahman at Man Repeller. What if you had no choice but to leave the past behind and live solely in the present?
My husband cheated on me when I was seven months pregnant by Lauren Bans at the Cut. DAMN.
Learning to swim taught me more than I bargained for by Jazmine Hughes at the New York Times magazine. About following your internal compass, overcoming fear, and finding yourself.
---
Questionable self-care advice
---
Support I got that you might need to hear
Today's message brought to you but Sun conjunct Chiron. Healing is messy and moving through a global reaction to pain and suffering is too much to figure out all at once. This doesn't have to be your breakthrough, the moment you wrote your best-selling novel, or your Oscar winning screenplay, it just has to be the moment you stay home if you can. Wash your hands like a Virgo, care for your people like a Cancer, dress for Zoom like Leo, nap like a Taurus, dream like a Pisces, entertain yourself like a Sagittarius, read like an Aquarius, be as relentless as an Aries, daddy the lost bbs like a Capricorn, redecorate like a Libra, text/FaceTime/House Party/dm/Marco Polo/WhatsApp like a Gemini, and survive this like a Scorpio. LOVE YOU.
---
I enthusiastically endorse
I'm so sad I left my many notecards covered in animals and cacti behind in my NYC apartment. I'm going to get some news ones, because writing to my friends and family brings me so much palpable joy. Try it, friends.
---
Minerva moment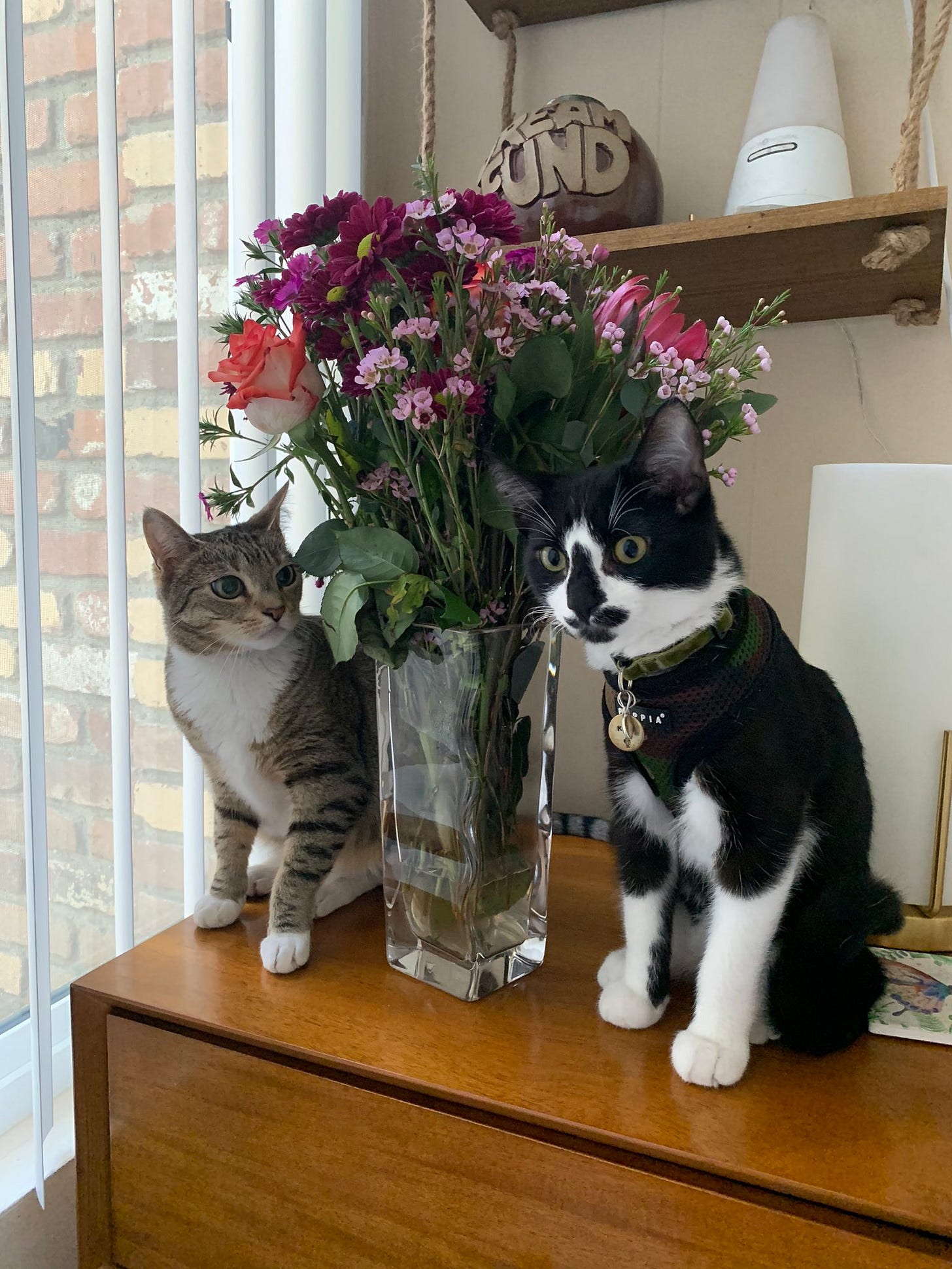 ---
Anthem of the week
"Supalonely" by BENEE ft. Gus Dapperton
---
Mood
---
Cruel compliments
---
If you liked this newsletter, please subscribe and share!
Follow me on:
You are not alone!