Discover more from Cruel Summer Book Club
A newsletter (and podcast) exploring change and living well. By Jillian Anthony
Over 1,000 subscribers
The 2022 holiday gift guide! 🎁
Or, a list of shiny things I love and covet
Welcome to my annual list of covetous little things! This is a gift guide in theory, but more an aspirational journey through things I loved, discovered, and ogled this year. (You won't find affiliate links here, other than the books.)
If you want an idea of my aesthetic, I call my home Breast Manor, and my living room was recently described by a straight man as "manic pixie dream girl." That was a big day for me!
And here are the 2021 and 2020 gift guides if you want more inspo. Happy holidays!
Books I loved this year
A Heart that Works by Rob Delaney
Crying in H Mart by Michelle Zauner
Four Thousand Weeks by Oliver Burkeman
Gone with the Wind by Margaret Mitchell
Into Thin Air by Jon Krakaeur
Sober Curious by Ruby Warrington
The Sober Curious Reset journal by Ruby Warrington
My Goodreads list of all 41 books I read this year (and counting!)
Books I haven't read, but want to
Big Magic by Elizabeth Gilbert
Between Two Kingdoms by Suleika Jaouad
Dirtbag, Massachusetts by Isaac Fitzgerald
Fair Play by Eve Rodsky
Get Your Shit Together by David Shrigley
The Intersectional Environmentalist by Leah Thomas
Like Streams to the Ocean by Jedidiah Jenkins
Tomorrow, and Tomorrow, and Tomorrow by Gabrielle Zevin
Covetous little things
Feminine, vibrant jewelry from Wolf and Moon
My most beloved, feminist Tarot deck from Mystic Mondays
Fabulous, totally unique gift-wrapping paper from artist Kate Blairstone
Prism suncatcher kitties that bring rainbows into my home every day from artist Megan Lynn Knott. I also own her cat Tarot deck.
Art and home goods from Austin-based artist Steph Ivelisse. Her online shop is closed right now, but you should follow her on Instagram. I own her resin goddesses and coasters.
A post shared by Steph Ivelisse | Calligrapher + Artist in TX (
@ivelissedesigns
)
Poketo Spectrum wall planner. This calendar was a big part of my life this year. It hangs on my office door and I used it to track my days of sobriety, lifting, and time outdoors. I loved it so much that I demanded my sister to buy me the 2023 edition as a Christmas gift.
2023 jumping point calendar from MoMA. A punch-out rainbow calendar to track your colorful days.
Sweet treats from Milk Bar. Always dreaming of birthday cake, the cake I've been eating for special occasions for a decade.
The holiday triple threat box from Fly By Jing. These seasonings make my life better!
Super green cremosa sauce from The Meteor cafe in Austin. I buy this sauce once a month, and even paid to check a bag to take bottles to friends in NYC. It's good on everything, but especially breakfast.
Fanny pack from Glad and Young Studio. I own earrings and a gorgeous journal from them, and have had my eye on this bag for too long.
Merch from the National Parks Project. I want so many things, like this calendar and this Prospect Park tee and these cards and this longsleeve.
La Fumée Coasters from Steak Diane. I'll pull the trigger on buying these someday.
Art by Sam Larson. His store is also closed right now, but I'm desperate for these cat cowboy prints:
The earrings I wear every day from Etsy's crushongold.
These earrings of my favorite emoji from En Route
Lucite Jenga set from Coming Soon NY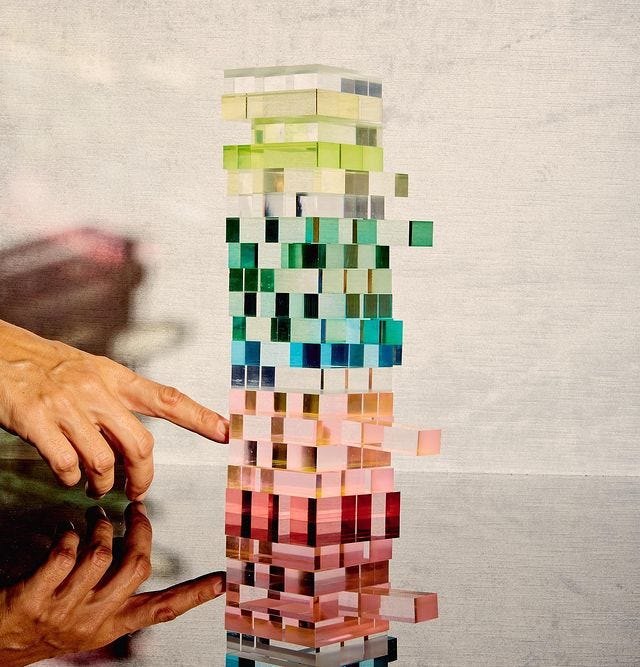 Handmade Houseplants by Corrie Beth Hogg, a guide to making stunning paper houseplants
Boy Smells exploratory scent set
Doc Martens leather sandals. All the London girlies wore these and I can't get them off my mind.
This print from Austin Motel
Rainbow hat from Birds Aren't Real
The Now clock from artist Hallie Bateman. The future and past do not exist—there is only now.
---
Thanks for reading Cruel Summer Book Club! Subscribe for free to receive new posts and support my work.
You are not alone!